Pet stores struggle to cope with dogs abandoned
Updated: 2012-02-06 07:55
By Zhou Wenting (China Daily)
| | | | | | | | | | | |
| --- | --- | --- | --- | --- | --- | --- | --- | --- | --- | --- |
|   | | Comments() | | Print | | Mail | | Large Medium  Small | 分享按钮 | 0 |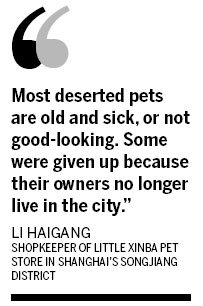 "It requires much effort to keep a large dog, which needs a lot of food and exercise. Many people get puppies because they want to follow a fashion, without being prepared to take care of them when they grow up," Wang said.
She said when pets are abandoned, the shop will post adoption information on its website and social network sites in an effort to find them new homes.
"Sometimes we give them free to people who suffer from health conditions and elderly people who live alone," she said.
Many pet shop workers said they will take dogs on if they fail to find a reliable owner.
"Some dogs are fierce, while others don't find it easy adapting to new owners," Wang said. "So we look after them in the shop. It's inhuman to abandon them again."
Many people believe owners abandon dogs at pet shops instead of the streets as a way to ease their conscience. But industry insiders said it's costly for small pet stores to raise these abandoned dogs.
"It's estimated that a dog may cost more than 30,000 yuan ($4,760) throughout its life to keep, including food, medication, vaccines and sterilization," said Qu Dehua, founder of Paradise Kennel, a kennel and training school located in Shanghai's outskirts.
Tong Siqi, manager of a chain pet shop, Cool Pets, in Beijing's Chaoyang district, said she once spent nearly 10,000 yuan on a 6-month-old poodle abandoned in her store for a month of medical treatment after the dog was found to suffer from canine distemper.
Learning a lesson from that experience, Tong now requires pet owners to give a copy of their ID card and verify that the phone numbers can be connected in their presence when accepting pets for boarding.
"Once I even publicized a dog owner's phone number on my micro blog to put pressure on him to take his pet home weeks after the arranged time limit," she said.
Animal protection experts said there should be better protection for pets and tougher punishment for abandonment.
Abandoning dogs is forbidden in many cities but the penalties are light, said An Xiang, a lawyer who handles public causes and focuses on animal protection.
"We should (make owners) apply for a low-cost license, so that more companion animals will be brought under management," he said.
"But those who desert their pets should be subject to heavy punishment. This is a way to legally lead people to show kindness for these animals, which depend on humans to live," he added.
Shi Yingying and Zhang Kun contributed to this story.