Lack of couriers during holiday halts businesses
Updated: 2012-01-14 08:10
By Ma Lie and Yu Ran (China Daily)
| | | | | | | | | | | |
| --- | --- | --- | --- | --- | --- | --- | --- | --- | --- | --- |
|   | | Comments() | | Print | | Mail | | Large Medium  Small | 分享按钮 | 0 |
XI'AN / SHANGHAI - While gift buying before the Spring Festival holiday is increasing the demand for courier services in China, more couriers are taking time off from their jobs to visit their families.
Liu Peng, a white-collar worker in Xi'an, Shaanxi province, managed to enlist the services of an express delivery company on Tuesday after calling it and waiting on the line for more than an hour. He wanted the company's help in sending a parcel to his parents in nearby Gansu province.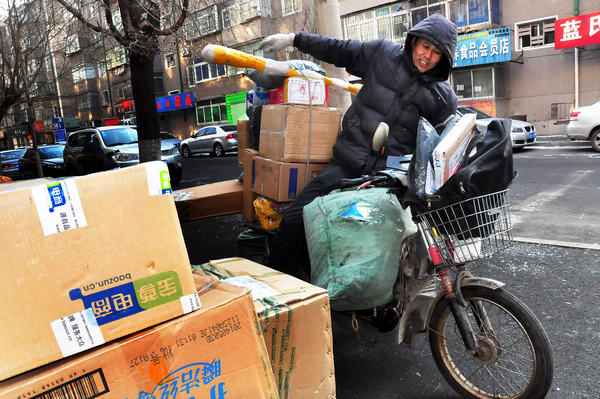 A courier mounts an electric bicycle laden with parcels in front of an express company in the Heping district of Shenyang, the capital of Liaoning province, in a photo taken on Jan 4. The approach of Spring Festival now heralds a peak time for online shopping and express deliveries. Man Jiang / for China Daily
"I have to stay here to work during the holiday and I wanted to send a present to my parents for Spring Festival," he said. "But it was really difficult to get in touch with the express company."
Such situations become more common around Spring Festival, when the demand for deliveries tends to rise and the number of deliverymen for hire to decrease, according to Huang Guanjun, manager of the Xi'an branch of Yuantong Express (Logistics) Co Ltd.
Huang's company employs about 200 couriers in the city, two-thirds of whom are migrant workers who will go to their homes in other provinces for the holiday.
"The number of deliveries being made in the city increased by more than 60 percent in the past two months," Huang said. "Every express firm here has a full warehouse."
Qin Wenyuan, 35, a courier at the Shaanxi branch of SF Express, a leading domestic courier based in Shenzhen, Guangdong province, said he has had to send more than 100 packages a day since Christmas and his company is now working hard to fill the backlog of orders it has received.
"I have been very busy these past few days and have felt very tired since I've often had to work until 9 pm," Qin said. "But I've also been happy since I've got about 8,000 yuan ($1,267) a month in pay in the past few months."
Yan Shiping, secretary-general of the Shaanxi express industry association, said the days before Spring Festival have always been a peak season for the delivery industry.
"Shaanxi has about 60 express companies and most are private," the secretary-general said. "We asked them to provide better service."
In response to that call, the delivery companies EMS, SF Express and Yuantong Express pledged to keep their businesses running during Spring Festival.
"But the speed of delivering will be slower since fewer couriers will be working," Yang Zhao, manager of a district branch of the Xi'an SF Express company.
Qin said: "Many of my colleagues whose hometowns are in other provinces went back home for the holiday. But I'll keep working since my home is in Xi'an. I think I will take some time off the night before Chinese New Year."
Zhang Jianhua, a senior manager at the Shanghai branch of SF Express, said: "Our current employees began getting ready for the Chinese New Year in the middle of last year."
Zhang said the company's Shanghai team has taken various steps to prevent parcel deliveries from being delayed or canceled during Spring Festival, chiefly by ensuring that enough staff members and equipment will be available during every day of the holiday.
Other companies are trying to cope with the holiday demand in a similar fashion.
"We've scheduled about half of our employees to be on duty between 8:30 am and 5:30 pm during Spring Festival," said Chen Mingqiang, manager at the Huangpu branch of Yuantong Express, a domestic carrier.
"They can return to their hometowns after the other half of the workers come back after the holiday, and those staff members will be offered an extra 100 yuan a day as bonuses."
Many operators of online businesses, who often rely on courier services to deliver goods to customers, have had to make changes to their business schedules.
"I've put up an online notice to all of my customers that the shop will be temporarily closed for about three weeks during Spring Festival," said Xiao Dong, the owner of an online shop.
Xiao said he knows of other online shops that are also taking a break for the holiday.
This week, a China Daily reporter visited 30 shops on Taobao.com, the biggest online shopping website in China. Of those, 80 percent had brought a temporary halt to their businesses because they could not offer express delivery of their goods.
Li Ailing, a Xi'an resident who runs an online shop for children's clothes, decided to shut her business down for a short time after learning that the express company she normally uses to deliver parcels had stopped taking orders.
"I had nothing to do even though this could be a peak season for my business," Li said. "Anyway, I took this as being my break after a year of being busy at work."
Shi Yingying contributed to this story.