Air crews learn how to pack a punch
Updated: 2012-01-06 09:18
By Wang Ying (China Daily)
| | | | | | | | | | | |
| --- | --- | --- | --- | --- | --- | --- | --- | --- | --- | --- |
|   | | Comments() | | Print | | Mail | | Large Medium  Small | 分享按钮 | 0 |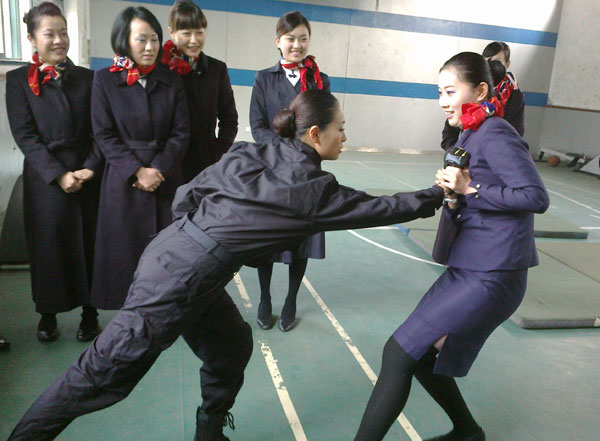 An air security instructor teaches stewardesses of China Eastern Airlines qin na, a Chinese martial art, in Shanghai in December. Provided to China Daily
SHANGHAI - Flight attendants at China Eastern Airlines are being trained in qin na, a Chinese martial art, to assist aircraft police and security guards when emergencies occur.
The first group of 20 China Eastern stewardesses took their first training class on Dec 16, and the company intends to expand the training program to all its 2,600-plus flight attendants in Shanghai, said Zhang Yuhong, a senior official with China Eastern's fifth passenger cabin services department.
"The decision has been made because of the recent satisfactory training outcome," Zhang said. Many of the trainees said the program was easy to learn and practically oriented to improve their on-the-job skills.
Zhang said China Eastern flight attendants are divided into five departments, and the fifth has about 450 crew members.
"Our department's training will finish by the end of February, and in the following months, the other four departments will undergo similar training," Zhang said.
All domestic airliners have security guards as well as air police to ensure safety. They wear plain clothes, but identify themselves when an emergency occurs.
"Stewardess's work responsibilities include aiding the security guards and police when the crew and passengers are in danger," a flight attendant from the Shanghai-based carrier was quoted as saying by Oriental Morning Post in Shanghai.
Flight attendants are usually hijackers' first - and to their minds easiest - target, and by learning basic self-defense and wrestling skills, they not only can protect themselves, but also win time for the air police to subdue the outlaws, Zhang said.
China Eastern is not the first Chinese airline to begin such a training program. In April, Hong Kong Airlines required new cabin crew members to master wing chun, a form of kungfu practiced by the legendary Bruce Lee, South China Morning Post reported.
As of yet, other Chinese carriers have not shown interest in requiring cabin crew to be trained in martial arts, though all Chinese airlines provide security training for their cabin crews.
Dragonair, a wholly owned subsidiary of Hong Kong-headquartered Cathay Pacific, said in a written reply that all Dragonair cabin crew go through security training during their initial training, and later also regularly receive refresher security training to equip them with the skills to handle circumstances that could threaten flight security. Dragonair had no comment on China Eastern's martial arts training program.
Zhang Wu'an, spokesman for Spring Airlines, China's only budget carrier, said they have no plan to launch a similar program because they consider their current training enough for their daily operation.