Playing with fire, keeping a cool head
Updated: 2012-01-01 09:53
By Liu Ce (China Daily)
| | | | | | | | | | | |
| --- | --- | --- | --- | --- | --- | --- | --- | --- | --- | --- |
|   | | Comments() | | Print | | Mail | | Large Medium  Small | 分享按钮 | 0 |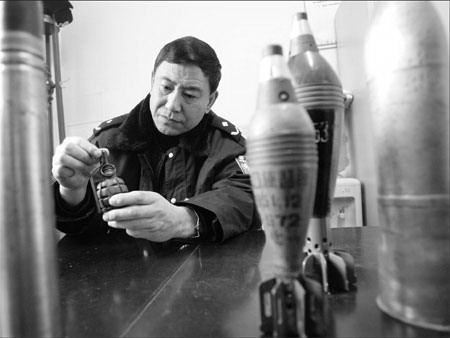 Gong Pifa takes a close look at a grenade. Provided to China Daily
SHENYANG - Gong Pifa has been dealing with bombs for 35 years and gets excited when talking about them.
The 55-year-old policeman says he will never forget his first explosive ordnance disposal experience.
He recalls that everyone was running away from the time bomb in the empty building except him.
Gong approached the satchel containing the charge and carefully examined the bomb, which consisted of an alarm clock, a battery, an electronic lighter and a trigger connected by three wires, red, white and blue.
"I had to cut the right wire, fast and steadily, or the bomb would have exploded."
Gong cut the blue wire, shaking as he did it. After cutting the wire, he couldn't move or think. Then, he cut the other two wires.
"When I finished cutting, I was sitting on the ground and couldn't get up I was so nervous and sweaty," says Gong, who leads the explosive and dangerous ordnance disposal branch of SWAT, in Shenyang, capital of Liaoning province.
"A strong mental outlook is the most important thing for us. You should be bold, cautious and steady," Gong says.
However, he is not like this in private.
"He is always lively and active, talkative and naughty. We never thought he would be an explosive bomb disposal expert," says Han Yuwei, who grew up with Gong.
In order to cultivate his character, Gong quit playing mahjong and cards after he got the job. Instead, in his spare time, he likes reading celebrity biographies.
"I can learn about composure, decisiveness and alertness from those biographies, which are helpful to my job."
This cautiousness extends to Gong's daily life.
"If someone gives him a present, he smells it, listens to it and examines it in order to make sure it's not a bomb," says his son, Gong Bing, 29.
Gong Bing's name sounds similar to the word "sapper" in Chinese, a combat engineer who often deals with mines.
"This was a coincidence, but also a fate. When he was born, I was a sapper but I didn't know I was going to do bomb disposal," Gong Pifa says.
"I have always admired him," says Gong Bing, who followed in his father's footsteps to become a SWAT team member in Shenyang.
Gong Pifa says he is always prepared to die because of the dangers of his job, but nevertheless he has not written a farewell letter to his family, as it would make them sad.
"I have nothing to hand over actually. My wife takes care of the money and everything."
Gong never tells his family that he is about to defuse a bomb and there is no telephone at home.
"If I'm on a mission and the telephone rings, it means I'm injured or dead," he says, matter of fact.
There is no ticking clock in his home either.
"I cannot abide the ticking sound because it sounds like a bomb timer."
Since every mission rolls the dice with death the pressure is intense and this is why, Gong says, he is a smoker.
"Smoking is helpful to release the pressure. And I also think how to summarize each successful defusing of a bomb when I'm smoking."
After each successful mission he goes out for a drink with his SWAT colleagues. They drink what he calls "safe rice wine". Otherwise, Gong never drinks.
In his small office, a green orchid on the windowsill is prominently displayed.
"I like lively plants. This flower blossoms like a flash in the pan. Just like my job, I'm unknown to the public but flourish when most needed."
For Gong, who will retire in four years, his 3-year-old granddaughter is the apple of his eye. However, he has little time to be with her, since he is so busy working.
"Sometimes she doesn't recognize me. The only thing I can do is bribe her with snacks and toys so that she will play with me," says Gong, staring at his granddaughter's picture on his desk.
In recent years, Gong has been busy summarizing his experiences of dealing with bombs and training young colleagues.
"I feel I'm still young and I can train more young people with my techniques and experience."
"He teaches us a lot but is tough on us in training," says Gong's 29-year-old colleague Chen Xin. "And we are not nervous if he is with us on mission."
"When I retire, I would like to travel with my wife. I haven't had a real vacation, just some business trips," Gong says.