Fighting fires ignites passion
Updated: 2011-12-30 09:47
| | | | | | | | | | | |
| --- | --- | --- | --- | --- | --- | --- | --- | --- | --- | --- |
|   | | Comments() | | Print | | Mail | | Large Medium  Small | 分享按钮 | 0 |
SHANGHAI - Ruan Bingyan will have his own fire engine soon.
Despite being an amateur fireman, Ruan's experiences are quite professional. Since he established a voluntary fire brigade with his three sons and two neighbors in 1989, the team has put out 156 fires for villagers.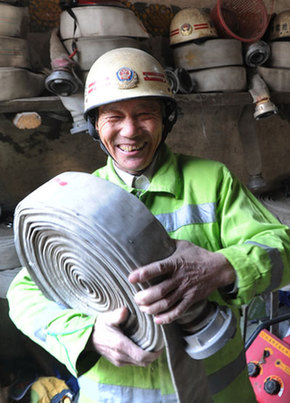 Amateur fireman and farmer Ruan Bingyan, 67, tidies his firefighting equipment at home in Shangyu, East China's Zhejiang province. [Han Jian / for China Daily] 
In November, the Ministry of Public Security awarded Ruan a fire engine to honor his efforts.
"I'm looking forward to adding it to my equipment," said Ruan, a 67-year-old farmer in Shangyu, Zhejiang province.
"I haven't received the fire engine yet. But I know that it is a four-wheel motorcycle with a fire pump and fire hose at the back," he said, adding that he had not used this kind of professional equipment before.
The village he lives in is at the junction of Shaoxing county and Shangyu city. When a fire breaks out, it's too late to wait for the professional firemen based in Shaoxing and Shangyu, as it usually takes about 30 minutes to reach the village.
"When I was younger, I saw happy families torn apart by flames. I was so sad that I decided to establish the brigade," said Ruan.
So he bought a portable fire pump and started free fire fighting for his fellow villagers.
The pump cost 4,500 yuan ($710) - a huge amount of money for a farmer - which he earned from providing transportation service.
Twenty-two years later, one of the rooms in the two-story ancestral house that he shares with his sons and their families is full of firefighting equipment, including clothing, hoses and helmets. He now owns five pumps, three motor tricycles and a crane for putting out fires in higher buildings.
Once an emergency occurs, he will call the other brigade members and set out immediately with their equipment. Since they live in the countryside, they use water from the river to put out the fire.
Over the years Ruan has come face to face with danger.
In 1999, when he was putting out a house fire, a burning girder fell on his shoulder. Ruan, who had to stand on his knees because of the hit, didn't leave the site until the fire was extinguished.
"I was too focused at that time to feel the pain," he recalled.
"I'm still young and healthy enough to handle the job," said Ruan, who already has gray hair and deep wrinkles on his face.
He plans to assign his youngest son Ruan Lifa to inherit the firefighting job.
"My father has spent almost all of his savings on the firefighting equipment. We sons have our own families to support, so we can contribute little to him financially," said 37-year-old Ruan Lifa.
"But I often help him repair the equipment. I plan to make the brigade more professional when I take over," said the son, who is a mechanic in a local factory.
Yao Yue'e, from a neighboring village, is one of those saved by Ruan and his crew.
"They arrived almost immediately after I called them. My house would have been burned to ashes if they arrived five minutes late," she told China Central Television.
Ruan said that he feels content with his life.
"Although I'm not rich, I will continue my firefighting career," he said.