Charles Tang: bridge between China and Brazil
Updated: 2011-12-23 22:22
By Cecily Liu (chinadaily.com.cn)
| | | | | | | | | | | |
| --- | --- | --- | --- | --- | --- | --- | --- | --- | --- | --- |
|   | | Comments() | | Print | | Mail | | Large Medium  Small | 分享按钮 | 0 |
When business and political leaders gathered at The Economist's forum on high growth markets in London, a handsome and charismatic Chinese won the audience over with his insight on Latin America. This familiar figure is no other than Charles Tang, Chairman of the Brazil-China Chamber of Industry & Commerce.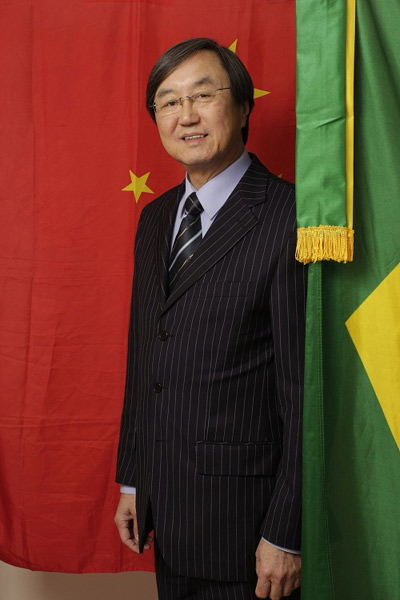 Charles Tang, Chairman of the Brazil-China Chamber of Industry & Commerce. [Photo/chinadaily.com.cn]
Since setting up BCCIC in 1986, Tang has hosted the visits of hundreds of Chinese delegations to explore business opportunities in Brazil. China's imports from Brazil have increased 18-fold over the past decade, overtaking the US to become Brazil's biggest export market in 2009.
"When I first sat up the chamber, nobody was interested. Brazil was a closed economy and China was very poor. But I was very fortunate to have support from six influential Brazilians including Senator Fernando Henrique Cardoso who later became Brazil's president," he said.
"Our chamber is very active today and we are helping with more than four billion dollars of business."
Tang has also assisted many Brazilian businesses to expand into China. In 2002, the Brazilian aircraft manufacturer Embraer established a joint venture to manufacture aircraft with China's AVIC II in Harbin. In 2004, Tang organized a trip for the Chairman of Banco Itaú to visit China, which resulted in the bank's opening of a representative office in Shanghai.
Tang is the 20th generation descendent of China's national hero Tang Jingchuan, who defended China against invasion from the Japanese almost five centuries ago.
Tang's family moved to Brazil when he was just a six year old boy. Challenges of the unfamiliar land made him grew up to be a strong and independent man.
"Brazil took my family in, but in our heart we are Chinese. This is what my father used to tell me, and I now tell my sons," he said.
Tang studied economics and sociology at Cornell University. Upon graduation, he worked for Deltec Banking to help manage its investments in Brazil. A year later The Bank of Boston hired him to develop and introduce leasing as a financial instrument into the Brazilian economy.
Leasing created many new business opportunities in Brazil. Tang's experience and skills became high in demand. Eleven major banking groups hired him as a private consultant to create their own leasing companies, including Safra Bank, Banco Bozano Simonsen, Montreal Bank and United Dutch Bank.
"I became a young millionaire through my own efforts and suddenly I was in all the major financial newspapers and magazines in Brazil," Tang recalled.
Was it pure luck? Tang shrugged with a confident smile: "Competence and luck bring success. You may be very competent but if you don't have luck, you may sometimes not be able to succeed. They go hand in hand."
Tang's newfound wealth allowed him to leave Bank of Boston in 1974 and set up his own leasing company Leasecapital S.A., as an equal partner with the State National Bank of Maryland. Tang subsequently established Leasecapital Espana S.A. in Madrid, Spain as a joint venture with the then Banco del Descuento.
Success comes not without challenges, and one of them is adapting to cultural differences. The Spaniards' habit of taking a four hour long lunch break and finishing dinner at midnight were completely out of tune with Tang's body clock. And how did he overcome the problem? "I didn't. I just stayed tired," he laughed.
Tang's personal success story is a legend, but he is full of enthusiasm when speaking about his work at BCCIC, cementing business ties between two countries dear to him.
With Tang's help, Brazil held its largest industry and commerce fair in Shanghai in 2002. Former Brazilian Minister of Development, Industry and Foreign Trade Sergio Amaral led a large delegation of 112 entrepreneurs to represent Brazil at the fair.
The fair also prompted many medium-size Brazilian brands to make China a new export destination, including Pelé brand instant coffee, Cemil long life milk, and Marko RollOn.
Many other Brazilian, European and American companies have also turned to Tang for assistance in expanding further into China and Brazil, including Votorantim, Odebrecht, Johnson & Johnson, Holcim, Sino Steel, JAC Automobiles, Foton and Grentech.
With China and Brazil's business relationship flourishing, Tang became the natural choice of speaker at many globally influential conferences. His views are also frequently appeared in international media, including USA Today, New York Times, The Economist, Business Week, Newsweek, Le Figaro, The Financial Times, CCTV News and the BBC World TV.
"China is becoming very strong, but we are still weak in our ability to convey and project our image the proper way to the Western world," said Tang. He now travels to China, Brazil and the US almost once every month, using his wisdom and influence to help China further integrate into the global economy.
Perhaps it is Tang's willingness to openly speak his mind that made him immediately likable.
One of his best friends at Cornell is his former teacher, Professor Gaza Feketekuty, who became Director of Operations at the US International Trade Commission. "When I disagreed with Professor Feketekuty in class, I tell him. He liked me because he thought I had discussed intelligently."
Tang is also a polo buddy of Prince Charles of Wales. After an initial meeting in Deauvielle in 1976, the two young men's shared passion for sports immediately drew them close.
"I realised that the British people did not talk to him very much, because he is their future king. But for me, he is just a polo player. I think that's why he liked me," Tang recalled.
An ardent lover of polo, Tang has played the game frequently at the Guard's Polo Club in Windsor, the Cowdray Polo Club in Midhurst, the Palm Beach Polo and Country Club in the US, as well as on his own polo field in Rio de Janeiro.
Tang's can-do attitude at work and in sports resonates with many Chinese. But the beautiful mountains, ocean and beach of Rio have also added a romantic touch to his person.
Tang met his first wife Uta Schwietzer in 1976. Being very late for a meeting with an American businessman in Rio, he walked passed a beautiful girl on the street.
As a responsible businessman, he went directly to his meeting, thinking "Gee, what a shame, these opportunities come only once in a lifetime."
But fate kindly gave Tang a second chance. The beautiful German lady turned out to be a manager for Lufthansa airlines, the office of which was not far from his.
After a few dates, Tang invited Schwietezer to join him on his trip to play polo with Prince Charles in Danville. "Don't you want to meet Prince Charles?" he asked, to which she replied "I already have my Prince Charles". Six months later the couple got married.
The happy marriage did not last, however, and it wasn't until 2001 did Tang meet his present wife, now Mrs. Natalia G. Tang, a beautiful lady of German and Italian descent from Brazil's wine capital Bento Goncalves.
When Tang first took Natalia to Beijing on a his work trip in 2005, she fell in love with the city and with China and pleaded that they stay for the Beijing fashion week. Tang offered to let her stay and join her a month later, but the suggestion was met with Natalia's teasing reply "Do you think I'm going to let you go back to Rio by yourself where there are so many pretty girls? You're crazy."
So Natalia left Beijing reluctantly, but insisted that Tang take her back to China. A year later the couple moved into an apartment in Shanghai.
"Well, you know. Women are always the boss. We men always have the last word: 'Yes my dear!'"