US man hears sound of music on two continents
Updated: 2011-12-18 08:53
| | | | | | | | | | | |
| --- | --- | --- | --- | --- | --- | --- | --- | --- | --- | --- |
|   | | Comments() | | Print | | Mail | | Large Medium  Small | 分享按钮 | 0 |
Suspense fills the theater. Explosions burst onto the screen, with gunfire ringing out during a five-minute car chase. Little-noticed in the excitement is the music guiding the viewer during the intensive scenes.
And that's how it should be, says Derek Zhao, a 23-year-old American who dreams of writing, recording and mixing his own music for a Hollywood blockbuster.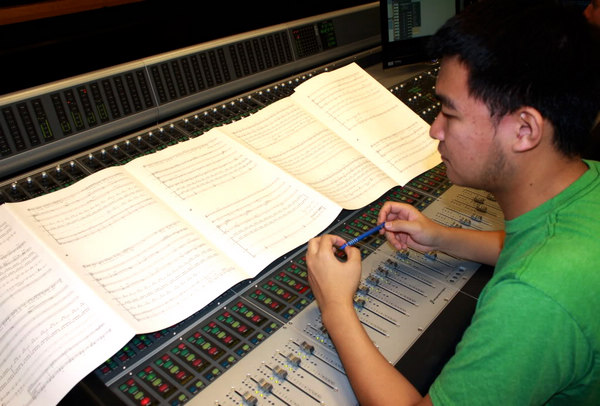 Zhao has been polishing and revising music for a new dance production called Nuwa, which will premiere next year. Provided to China Daily 
For now, Zhao is splitting his time between what he calls the "two entertainment capitals of the world" - Beijing and Los Angeles - trying to make a living in the music industry. To tap into both markets, he makes the 12-hour flight every two months.
"It is physically and emotionally exhausting," he says. "But mentally, time flies a lot faster. And before I know it, I am gone again."
In Los Angeles, he drums up business as a freelance composer and producer, and then flies overseas to work his part-time job as a composer at the Beijing Dance Drama and Opera. Recently he has been polishing and revising music for a new dance production called Nuwa, which will premiere next year.
He was offered the job in China when he and his family were on a tour of his birthplace. He was born in Sichuan, but only spent a year there before moving to Texas with his family. He was worried about accepting the job. Worried about not having any friends, not knowing enough Mandarin and not being interested in Chinese entertainment. But moving halfway across the world has changed his perspective.
"I love it; it was silly to be fretting." Not only has he brushed up on his language skills and explored the Middle Kingdom with newfound friends, but he has also expanded his musical repertoire to include Asian-inspired sounds.
Despite a year of being in transit, Zhao still hasn't decided where he wants to live full time. He finds China alluring, especially after the government's recent commitment to cultural development. China decided at its annual policy meeting in October that it will shift its focus to its rich culture instead of a rich lifestyle. Zhao says he just wants to be in the right place at the right time.
"China is a giant melting pot that hasn't melted yet," he says.
But he doesn't want to lose the connections he's made in Los Angeles during college, at the University of Southern California. He is waiting for his college peers to catch up, since he graduated a year early with a bachelor of fine arts degree with an emphasis in recording and composing. His resume runs long with favors for fellow students who were making films and commercials, citing 40-50 scores. He's hoping one of those favors will one day pay off.
His experience also includes a yearlong mentorship with 19-time Oscar-nominated, and Grammy Award-winning composer, singer and songwriter Randy Newman.
"I would go to his house one or two times a month," he says. "They were more like therapy sessions. We would talk about mutual experiences and he would offer advice."
Instead of the high-tech devices he was used to at school, Zhao learned the "old school" way of scoring a film - with pencil and paper. Zhao helped create demos of the music Newman was writing for Toy Story 3 and The Princess and the Frog.
"He is just enough curmudgeonly to be loveable," Zhao says, referring to him as the lovable grandpa that he stays in touch with.
"My hope is that he would call if he does another film," Zhao says.
You may contact the writer at sundayed@chinadaily.com.cn.