Oldest couple impart secrets of love
Updated: 2011-12-16 16:16
(Xinhua)
| | | | | | | | | | | |
| --- | --- | --- | --- | --- | --- | --- | --- | --- | --- | --- |
|   | | Comments() | | Print | | Mail | | Large Medium  Small | 分享按钮 | 0 |
GUIYANG - People use the word "silver" to describe a 25-year-old marriage, "golden" for a 50-year-old one and "diamond" for 60 years of marriage.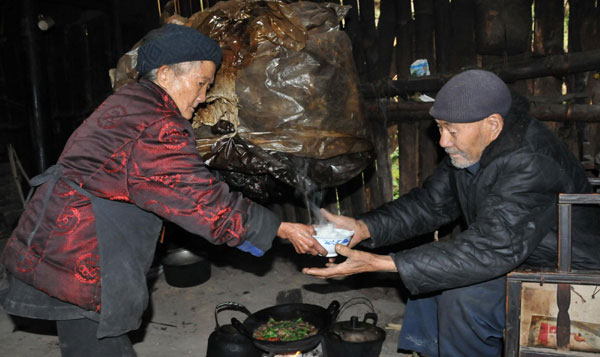 Jin Jifen, 106, and her husband Yang Shengzhong, 109, have a meal at home, Dec 6, 2011. The couple has been recognized as the oldest living couple in the country by the Gerontological Society of China. Living in a village in Southwest China's Guizhou province for more than 100 years, Yang used to be a carpenter and Jin a housewife. They have been married for almost 90 years and the family has five generations. "She has been nice to me my whole life and still cooks for me," said Yang. [Photo/Xinhua]
However, there may be no precious metal or stone in existence that can truly commemorate the marriage of Yang Shengzhong and Jin Jifen, who celebrated their 90th year of matrimony this year in southwest China's Guizhou province.
Yang, 109, and his wife Jin, 106, have a combined age of 215 and were recently recognized as the oldest living couple in the country by the Gerontological Society of China.
Residing in a mountainous village in Pingtang county, Yang and Jin were born in the final days of China's last feudal dynasty. The two have witnessed the wars, famine and political upheaval that have marked the last century of Chinese history.
"I narrowly escaped being captured and forced into war when I was young, and I still remember the starvation in years past," said Yang.
Young and Jin now lead a peaceful life with their youngest son. Hale and hearty, the couple still tend to their patch of farmland, where they produce food for the family's dinner table.
"People live to work, and life cannot go on without labor," Jin said while preparing their lunch. Their daily diet consists of rice, vegetables and preserved pork.
Yang said the greatest adventure they have embarked on together was a train ride to visit their daughter, who lives in north China's Hebei province.
"The train chugged on for a day and a night, but we were still in the same province. Amazing, indeed!" Yang said when he recalled the trip.
Wordless love
The elderly couple, now half-deaf and visually impaired, seldom talk but communicate with each other through eye contact and gestures.
Though their 90 years of conjugal life, Yang and Jin said they never exchanged angry words, except for rare spats in the early days of their marriage.
"I was married to Yang at 16, and he has been nice to me, so I said to myself, 'this was the man I will spend my whole life with'," Jin said.
In the old days, marriages in China were usually arranged by parents, and the romance between bride and groom might not start until the wedding day, when they would finally see each other for the first time.
Secret of long life 
The couple has built up a family of five generations, which makes for a crowded and convivial gathering during the annual Spring Festival holiday.
The couple believes that the keys to longevity are working every day, keeping a harmonious family and having "inner peace and a grateful heart."
A good natural environment and clean water have also contributed to increased lifespans in the area, according to local experts.
According to official accounts, there are six men and women above the age of 100 in Pingtang's township of Tongzhou, with the oldest being a 111-year-old woman.
As of November 2011, the Chinese mainland had registered 48,921 people above the age of 100, according to the Gerontological Society of China. The oldest living Chinese person is Luo Meizhen, a 126-year-old woman from the Guangxi Zhuang autonomous region in Southwest China.
Similarities between the oldest men and women include a peaceful mindset, a simple diet and having a son or daughter who takes care of them, said Li Bengong, head of the society.