A sharp nose for bad air
Updated: 2011-12-15 09:21
| | | | | | | | | | | |
| --- | --- | --- | --- | --- | --- | --- | --- | --- | --- | --- |
|   | | Comments() | | Print | | Mail | | Large Medium  Small | 分享按钮 | 0 |
SHENYANG - Sometimes Dong Ming's job really stinks.
Sitting in a sterile lab wearing white overalls, the "olfactory discriminator" takes a good whiff from a transparent plastic bag.
She then sniffs several other bags for comparison, keeping a record of the scents from each air sample.
The 32-year-old's job is to "convict crimes of odor" using her nose.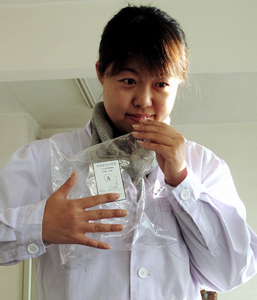 "Olfactory discriminator" Dong Ming at the Liaoning provincial environmental monitoring station. Liu Ce / China Daily
"Nothing can replace a human's nose, even in such a high-technology environment," she said. "The standard of odor density depends on human senses."
If the odor is too strong, it indicates where more regulation of the environment is required.
"Sometimes I can hardly eat anything after a round of smelling. A good way to lose weight, huh?" Dong said.
A major in applied chemistry in college, Dong became the first certified olfactory discriminator in the Liaoning environmental monitoring station in 2005.
"I didn't know what an olfactory discriminator was either in the very beginning. But now I feel proud that not everyone can do this job," she said.
"If I am sick, I have to go to the hospital immediately before the cold develops," said Dong.
She used to eat hotpot, her favorite, at least once a month. Now hotpot is a treat.
"I can't eat spicy things including scallion, ginger and garlic, especially the day before an experiment," said Dong in a pitiful voice.
Moreover, smoke from cooking is harmful for her sense of smell. So Dong lives with her parents and never cooks.
"I will have to find a boyfriend who can do all the cooking," the single girl said.
However, an olfactory discriminator should not have too acute of a nose.
"Sometimes ordinary people can accept smells or don't identify them because of the low density," Dong said.
"Plus, being too sensitive to odors will also affect our mood."
So Dong has many methods to adjust her feelings.
"I've raised a Labrador for nearly four years. He is like my child. Being with him makes me delighted," said Dong.
Apart from the lab work, she also analyzes water and soil samples at the observation sites, and when off work she plays ping-pong and badminton to stay in shape.
She said the exercise also gets the odors out of her system.
"She has a smooth temper with great carefulness, which is suitable for being an olfactory discriminator," said Wang Juan, Dong's colleague.
Her close friend Chen Tianyang said Dong's job is cool.
"I'm curious to know more details about her job. But she just said it's nothing special. That's her, always keeping a low profile.
"I just hope smelling too many odors won't harm her health," Chen said.