A shoulder for AIDS patients
Updated: 2011-12-14 08:10
| | | | | | | | | | | |
| --- | --- | --- | --- | --- | --- | --- | --- | --- | --- | --- |
|   | | Comments() | | Print | | Mail | | Large Medium  Small | 分享按钮 | 0 |
BEIJING - When Pang Yu was introduced to people living with HIV/AIDS at a party to celebrate Spring Festival, he felt he might encounter resistance.
"I wasn't afraid of the disease. But I had never met AIDS patients or HIV carriers before. I assumed that they would be quite isolated and wouldn't like to talk about themselves to strangers, and that the presence of a mental doctor would make them uncomfortable," said Pang, a psychologist at Beijing Huilongguan Hospital.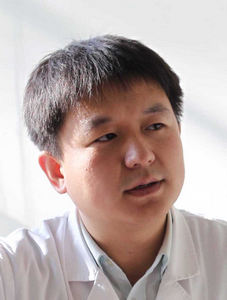 Psychologist Pang Yu has provided mental support to AIDS patients since 2007. 
"It turned out that my worries were groundless," the 31-year-old said.
The organizer of the party, Home of Red Ribbons, which provides care and support to people living with HIV/AIDS, introduced Pang as a new member who would offer psychological assistance.
"Home of Red Ribbon did a great job being a shelter and home for AIDS patients and HIV carriers. People there were quite optimistic and open-minded about their situations," Pang said.
After his graduation from medical school in Heilongjiang province in 2004, Pang became a resident of Beijing Huilongguan Hospital, one of the leading mental hospitals in Beijing.
In mid December 2006, he heard about Home of Red Ribbon through a friend.
Before Pang joined, the team did not have a professional who people with mental problems could turn to for help.
"Being a clinical psychologist is what I had dreamed of. But it never occurred to me that one day I could use my expertise to help people battling against HIV," Pang said.
After the party, a man in his 50s surnamed Zhang came to Pang.
Zhang is homosexual and divorced. He had a secret relationship with a married man. They loved each other very much but had quarreled a lot and experienced several break-ups.
After a two-hour talk with Pang, Zhang said he felt as if a big stone had been removed from his heart.
"I kind of broke normal practice, because usually the first counseling should be less than one hour," Pang said.
"I was encouraged, for Zhang has accepted me and opened his heart to me."
Yet Pang soon realized the voluntary service was not an easy task.
When a person is diagnosed an HIV carrier or AIDS patient, doctors will suggest psychological counseling, but nearly 90 percent of those who come to the Home of Red Ribbon for the first time are not willing to speak to a psychologist, Pang said.
"Being diagnosed HIV positive is devastating. The virus will stick to the person for life, and there is no ultimate cure, " Pang said.
"The diagnosis will definitely cause great mental trauma. Because of public misunderstanding of the disease, patients and carriers will also likely be gripped by the illness' stigma."
Leading the Home's six-member psychological counseling team, Pang said it is vitally important to gain trust from patients in the very beginning, making them believe that at least he can help them relieve mental pressure.
Special techniques are applied when people are reticent to speak. For instance, Pang will ask them to draw specific objects on a piece of paper, which helps him to analyze the person's mental situation.
Words such as AIDS or HIV are strictly avoided during the process, because they will sound like needles to the hearts of those newly diagnosed.
"It feels like peeling an onion," Pang said. "You need to get into their inner world little by little."
Pang found that the psychological difficulties of people with AIDS or HIV are not necessarily centered on the disease.
"They are ordinary people who live with a special virus, and as they live, they will face the same problems as everyone else, such as anxiety over work, family, relationships and education of kids," Pang said.
Wang Kerong, director of Home of Red Ribbon, said Pang "has a strong sense of social responsibility".
"He and his team are very important in helping our patients. They are professional, and the patients trust them."
A male peer educator surnamed Wang was diagnosed HIV positive in 2005, and has been receiving mental support from Pang since mid 2007.
"His professional knowledge is very helpful. I learn from him how to release mental pressure and control my emotions."
Pang said that in some way, his patients also help him.
"They make me feel needed," he said.