Ex-soldier makes his last stand
Updated: 2011-12-13 08:59
By Xu Junqian (China Daily)
| | | | | | | | | | | |
| --- | --- | --- | --- | --- | --- | --- | --- | --- | --- | --- |
|   | | Comments() | | Print | | Mail | | Large Medium  Small | 分享按钮 | 0 |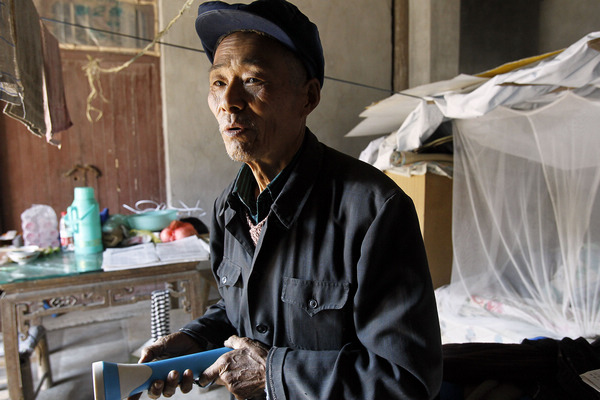 Shen Peixin is determined not to move from the house he loves. It has been handed down through the generations for hundreds of years. Yong Kai / for China Daily 
SHANGHAI - For the past seven years, 78-year-old Shen Peixin has led a spartan life in his ancestral house with no electricity or running water, while the rest of his family enjoys the comforts of modern life in a two-bedroom apartment only kilometers away.
That is not because the retired military officer is having any family problems. Instead, he is trying to protect a piece of property that has been passed down for more than 270 years.
"My house has survived war, and outlived storms and typhoons. It just never occurred to me that it would one day fall under the wrecker's ball," said Shen, sitting against the gate of the house while dozens of excavators were busy outside.
Shen has never left his house alone since 2003, when a notice came from the local government that hundreds of houses on the outskirts of Shanghai, including his, would be pulled down to make room for a new industrial park.
The 92,000-square-meter Shanghai Financial Information Service Industrial Park will support the Lujiazui Finance and Trade Zone, the city's vibrant central business district 15 km away.
While every one of Shen's neighbors has left, moving on to a new life in the bright and spacious apartments, Shen, a self-dubbed "old diehard", was garrisoning the territory with no intention of surrender.
"We army men never give up," claimed Shen, with a broken leg and a dog as his only companion.
He has to light a candle every night, and traveled miles for water before a well was dug in the yard three years ago, as the area has literally been turned into a field of ruin.
"I was born here, married here, and ultimately, I hoped I could die here, just like generations of my predecessors," said the old man, with a weather-beaten face like those in Ernest Hemingway's books.
The house was built in the mid-18th century by a provincial governor as a private resort for his wife, and gradually expanded into more grandeur dwellings.
"There were gardens, fruit yards and bamboo forests then," said Shen. "And the pond in front used to be called 'moon river', because of its curved shape."
The backyard of the house was also used as a classroom for up to 200 students in a private school run by Shen's father. "I was taught here, too," said Shen, the glow of pride on his face.
The only sign now of the house's old glory, however, is the delicate wood carving on the doors, beams and pillars of the house, which feature soldiers riding on horses and in battle.
"The house has been shabby enough under my care. I will do everything to prevent it from being reduced into a ruined field, and if possible, restore its former glory under the name of a historical relic," as Shen told China Daily.
The house has only one room now and its walls and windows have been replaced with concrete and shards.
However Kang Yehong, an official from Tangzhen, denied the possibility of preserving Shen's house as historical heritage.
"We have consulted historical experts several times. The fact is that the house has been damaged so severely that it is by no means a house, but merely a wooden frame," said Kang.
Shen's hope was ignited when local relic protection officials visited him in early November and collected materials for further analysis. But the local Labor News reported that Pudong New Area has about 200 such houses.
"We will preserve the bits and pieces that are identified as having historic value after the house is torn down, and send them to those who know how to protect relics," promised the official.
Yet Shen is showing no intention of leaving his house reduced to "bits and pieces" at all, as it is more a house of memory than valuable history for him. On the contrary, he is trying to turn his life into a more primitive one by toiling in a small plot of land in front of his house to feed and dress himself.
"These are enough for my winter clothes," said Shen, pointing at the piles of cotton he harvested in the land and dried under the sun in his yard.
"They have offered me piles of cash, threatened me with violence and authorities, and wooed me by saying that they were coming to repair the house," said Shen.
His perseverance is also winning support from his family.
"Of course we worry about my father's health," said Shen Huifang, the youngest daughter in the family.
"We drop by twice a week to look after him. And we've made a deal that we will take over the housekeeping job even after my father's death."