School bus safety rules set standards
Updated: 2011-12-12 07:39
By Chen Jia (China Daily)
| | | | | | | | | | | |
| --- | --- | --- | --- | --- | --- | --- | --- | --- | --- | --- |
|   | | Comments() | | Print | | Mail | | Large Medium  Small | 分享按钮 | 0 |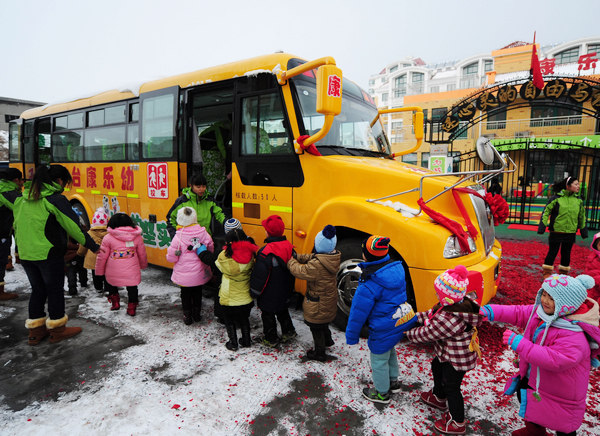 Children line up to get on a US-style school bus at a kindergarten in Yantai, East China's Shandong province, on Saturday. Chu Yang / Xinhua 
BEIJING - The State Council's Legislative Affairs Office opened a public comment period on Sunday on draft safety regulations for school buses.
The draft, which has 59 provisions, stipulates that local governments above the county level should take "overall responsibility" for school bus safety.
It also states that education, public security, transportation and product quality supervisory bodies should properly perform their duties.
The government will establish and refine mandatory technical standards for the quality of vehicles used as school buses, the draft stated.
The move comes after 19 preschoolers and two adults died on an overcrowded school bus on Nov 16. The other 43 people on the bus, which only had nine seats, were injured.
In response, Premier Wen Jiabao called on Nov 27 for a bus-safety regulation to be issued within a month.
At the end of last month, advice on the draft safety regulation began to be submitted by various ministries. The Ministry of Education and the Ministry of Public Security are among the main agencies that have offered suggestions.
According to the draft, the government will adopt a licensing system for school bus operations.
Vehicles that meet the necessary standards will be first to obtain approval from education authorities.The draft mandates the registration of buses at traffic administration agencies.
Instead of compulsory annual safety checks, the draft would require school-bus owners to renew their safety permits every six months.
Drivers would also be required to conduct safety checks of buses before each commute, the draft said.
The draft asks schools and school bus service providers to intensify safety management and maintenance and assign special staff members on buses to look after the students on board.
"The draft has followed educational experts' suggestions to stipulate strict quality standards for school bus drivers, including their ages, driving experience, safety records and health," Yuan Guilin, an education professor at Beijing Normal University who studies rural education and school bus safety, said on Sunday.
According to the draft, drivers should be less than 60 years old and have clean driving records for more than three years, he said.
Since most urban students attend schools near their homes, the government will give more financial support and larger tax breaks to expand rural services, the State Council Legislative Affairs Office said in a statement.
Many observers have said that schools do not have the money to use standard school buses. In response to such observations, the draft said that central and local governments would help pay for those costs and encourage donations as well.
"It is reasonable to (draw on donations) in light of the limited government budget for school bus services," said Yang Dongping, a professor at the Beijing Institute of Technology, who has studied educational development in China.
Some parents have said that allowing a three-year transition period for schools to follow the new rules is too long.
"It tolerates school buses unqualified under the new regulation over the coming three years, which might endanger my child's safety," a 28-year-old mother surnamed Cui said on Sunday.
The draft regulation is at www.chinalaw.gov.cn. Feedback via online posts, letters and e-mail will be accepted until Jan 11.
Xinhua contributed to this story.