Cat lovers hope to heal the pain
Updated: 2011-10-31 08:08
By Ma Lie (China Daily)
| | | | | | | | | | | |
| --- | --- | --- | --- | --- | --- | --- | --- | --- | --- | --- |
|   | | Comments() | | Print | | Mail | | Large Medium  Small | 分享按钮 | 0 |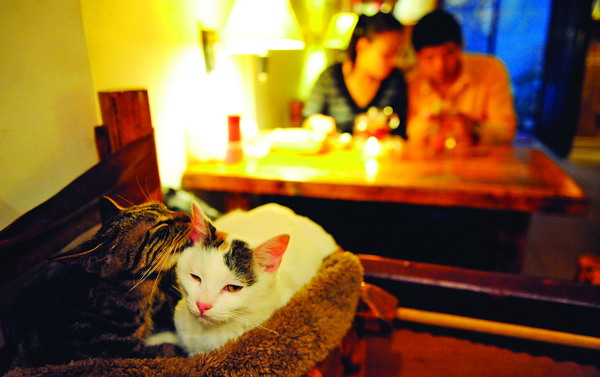 Two stray cats at a bar set up by animal lovers to offer therapy for these animals in Xi'an, the capital of Northwest China's Shaanxi province. [Photo by Ning Feng/for China Daily] 
XI'AN - Animal lovers in Xi'an, capital of Northwest China's Shaanxi province, have set up a facility for homeless cats that have developed psychological problems as a result of their vagrant lives.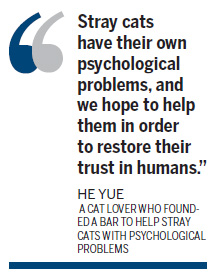 "Stray cats have their own psychological problems, and we hope to help them in order to restore their trust in humans," He Yue, a cat lover in Xi'an, said.
The 25-year-old woman founded a bar a month ago to help stray cats that have been injured or have psychological problems. It's also a place where local cat lovers can share their experience in helping stray cats.
"Some disabled stray cats were injured in accidents and some were injured by people who mistreated them. Cats are very sensitive animals and will learn to distrust people if someone has hurt or scared them," she said.
She is an employee of a local company who cares for stray cats in her spare time. In the process, she's gotten to know many cat lovers who also help the city's feral felines.
"During our talks about helping cats, we realized that these animals have their own psychological problems that have been overlooked. We decided to set up a place to cure the cats," she said.
The space for the cat therapy bar was provided by one of her friends. She keeps 15 stray cats there for treatment, and local cat lovers go there after work to help with the animals and share their cat-keeping experiences.
"Cats are special, displaying curiosity, jealousy, self-esteem and loneliness," she said.
"Any mistreatment will cause them to have psychological problems. Our therapy is to treat them properly with respect and love," she said.
According to Gao Xiufen, another cat lover at the bar, it's not just stray cats who have psychological problems. The cat she keeps at home also experiences mental distress.
"My cat wasn't eating properly and was making a lot of noise, so I took it to a pet hospital. The tests showed that it was normal. The doctors told me that it might have psychological problems, as I took care of some stray cats in my residential community. It smelled other cats' scents on my body and felt sad," Gao said.
"If you want to keep a cat, you should fully understand it and treat it properly," Gao said.
There are no official figures on the city's stray cat population, but these animals can be found in every residential area.
More stray cats mean more attention from residents, some of whom try to help the animals while others complain that the cats disturb their lives.
Cheng Shuqin, 58, a retired teacher in the city, has been feeding stray cats for eight years. She spends about 10,000 yuan ($1,550) a year, nearly half of her pension, to feed some 80 stray cats in her residential community.
But other residents complain that the cats are noisy and dirty, and there have been cases of cat abuse.
Li Ping, a cat lover in the city, has paid to have 30 stray cats sterilized since last September. She said that she hoped veterinarians would do such operations free for stray cats to control the feline population and cut down on human complaints.
Wei Wei, a local animal expert who has a pet hospital in the city, said that she would like to provide free sterilization for stray cats, but she also had to consider the actual costs of the operation.
"The operation for a female cat costs 1,000 yuan, and it's 300 yuan for a male cat. We can't do it totally free," Wei said.
Wei said that the problem of the increasing stray cat population should be solved by laws and regulations. There are strict rules to control the breeding of stray cats and dogs in developed countries, while there is no official organization here to manage stray cats.