Collector has the run of the hill
Updated: 2011-10-21 10:08
| | | | | | | | | | | |
| --- | --- | --- | --- | --- | --- | --- | --- | --- | --- | --- |
|   | | Comments() | | Print | | Mail | | Large Medium  Small | 分享按钮 | 0 |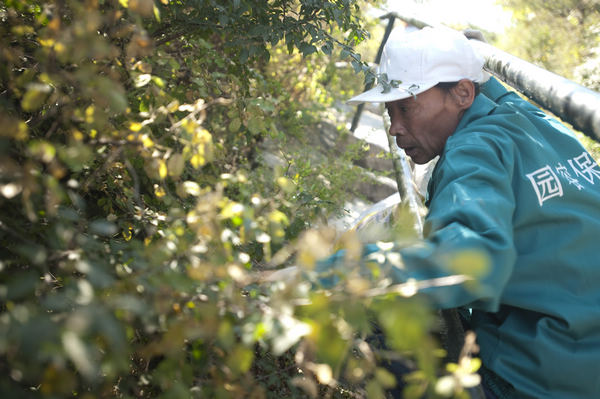 Cleaner Hou Jinlin collects garbage at Beijing's Xiangshan Park on Oct 1, the National Day. [Gao Wei / For China Daily] 
BEIJING - His dreams of long-distance running gone, Hou Jinlin has turned to racing cable cars up and down a hill.
Hou, 51, a cleaner at Xiangshan Park in northwestern Beijing, also known as Fragrant Hills Park, has made a name for himself by climbing down the hill two minutes quicker than the cable car.
And by always picking up more garbage than anyone else along the way.
"He's swift," said Peng Liyan, 39, Hou's co-worker. "It takes him 16 minutes to go down the hill and 18 minutes for the cable car. None of us can do that."
"I used to be a long-distance runner in school," said Hou, a farmer from Jilin province. "But the family needed labor for farming so I had no choice but to drop it. However, I'm glad it helps me with my work today."
Most of Hou's training partners didn't stick with the sport either, ending up as laborers in the city or farmers like their parents and grandparents.
"For people from poor rural areas like us, finding jobs in the cities is much more practical than engaging in sports," said Hou.
The first weekend of the Xiangshan Red Leaves Festival on Oct 15 drew some 132,000 tourists from home and abroad.
However, for Hou, the festival means another five tons of garbage.
He gets up at 5 am, transports the waste collected the previous day down hill on the cable car before the tourists swarm in - or before they have even woken up - and then he continues collecting garbage until the evening.
"I'm always the first to ride the cable car in the park and there's no need to queue," Hou kidded.
Living with another 15 co-workers on the hilltop, Hou hardly leaves the hill and is jokingly nicknamed "caveman" by colleagues.
"The cable car stops functioning after work and there's no way I can get down the hill, unless I climb up myself afterwards," said Hou. "After climbing up and down the hill collecting rubbish the whole day, no one wants to do that."
"But tons of garbage collected the whole day always fill you with a sense of achievement," Hou added.
"The workers from the villages and countryside work extremely hard," said Yao Jiang, who works at the administration office of the park. "The work is tough."
Even during his only day off in a week, Hou collects garbage outside the park.
"Whenever you see him, he's strolling around with his plastic bag," said Wang Yan, who works at Xiangshan Park.
"It's like an addiction once you start doing it," Hou said. "Ending a day with a huge bag of empty bottles or discarded magazines is always encouraging to me. You clean the city up and save some money, so why not?"
Hou said he enjoys observing the tourists while collecting garbage.
"It takes a long time for some people to decide whether to throw an empty bottle away or hold it until they find a dustbin. And when they throw it on the ground, I can feel their sense of guilt," said Hou.
"I won't go educate or persuade them. My job is to clean, not to talk. But whenever I bend down in front of someone to pick up what they just threw, I believe that's a lesson more vivid than words."
Hou found his present job two years ago, after working as a cleaner for five years in Huludao in Northeastern China's Liaoning province.
"I don't have other skills but I can collect more garbage than others," said Hou. "I didn't think much before moving, but big cities might have more garbage to collect and so I'm here."
Living in a high-cost city like Beijing with a monthly income of around 1,700 yuan ($265), Hou finds his present life "cozy".
"I'm provided with a room on the hilltop, the only expense is on food, approximately 200 yuan a month," said Hou, showing the reporter from China Daily his bedroom - an eight square meter room shared by three men and a wooden table, the "kitchen" where they cook and eat and chat when not working.
The only electronics in the living room are a television, fan, heater, fridge and a cooker.
"I don't feel the pressure of a big city," said Hou proudly, adding that he will work as long as he can, and save enough before he retires.
"I may go to an old folk's home the day I can't work. I'll have saved a lot by then," said Hou.
Having never been married "out of poverty", Hou thinks from time to time of finding a companion to take care of each other.
"Sometimes I think of a woman," Hou laughed, the lines under his eyes becoming deeper. "But who is willing to live with a garbage collector and eat steamed buns every day?"
"I've been used to living alone," said Hou, with his dark complexion glowing from the autumn sun.
"There's another 10 tons of garbage to collect today, you're just too occupied to feel lonely."