Rescues show caring nature of passers-by
Updated: 2011-10-21 08:10
| | | | | | | | | | | |
| --- | --- | --- | --- | --- | --- | --- | --- | --- | --- | --- |
|   | | Comments() | | Print | | Mail | | Large Medium  Small | 分享按钮 | 0 |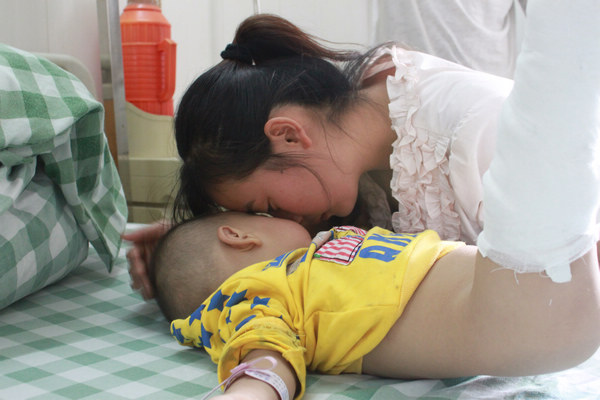 Xiao Jie, a 20-month-old boy, suffered a bone fracture after being knocked down by a car in a bazaar in Foshan, Guangdong province, on Wednesday morning. More than 10 people shouted for the car to stop and then came to the boy's help. [Provided to China Daily]
GUANGZHOU - While the news that a 2-year-old girl had been run over twice in Foshan and then ignored by at least 18 passers-by was shocking the country, people in Guangdong province were saying that behavior was not typical of them.
On Wednesday, a 20-month-old boy was also knocked down by a car that had been moving in reverse at a bazaar in Foshan, the same city where the girl had been hit, according to Guangzhou Daily. In the boy's case, though, he was not left to fend for himself after the accident but instead was quickly aided by a group of passers-by who helped to stop the vehicle that had hit him. They then called for his mother.
The boy's mother, whose surname is Zhao, said she is grateful to the people who saved her son.
"My son might have been killed without the help of these kind-hearted people," said Zhao, who sells vegetable at the bazaar.
At the time of the accident, more than 10 stall owners in the bazaar had stepped outside and shouted for the car that hit the boy to stop. They next called for Tang's mother and then helped to send him to the hospital. Later in the afternoon, many stall owners purchased fruit to take with them on a visit to the child and his family in the hospital.
After a thorough examination, Tang was found to have suffered a bone fracture. Doctors said he would recover in five to six weeks.
The driver, whose surname was Huang, also joined those who came to Tang's aid following the accident.
"I did not see Tang when I was reversing my car in the crowded and narrow path," Huang said. "And I sincerely thanked the people who had shouted to stop my car."
On Tuesday, a 32-year-old woman named Qin Guoying, who had also been hit twice by vehicles, was rescued by kind-hearted passers-by in Guangzhou's Huadu district, reported Nanfang Daily.
Qin, who comes from Hunan province, suffered a light injury when she was hit by a car while riding an electric bicycle at about 6 pm. She was quickly discharged from a nearby hospital after undergoing treatment.
Her bad luck did not end there, though. Returning to the scene to look for her keys at about 10 pm, Qin was hit by a taxi and seriously wounded.
After the accident, three passers-by, Liu Shutong, Chen Jie and Li Shuai, stayed at the scene to talk to Qin's family using mobile phones and micro blogs and to take care of Qin's belongings.
The taxi driver, meanwhile, phoned a local emergency hotline for help.
The group then waited for the ambulance and police to arrive.
Qin's husband, Yang Wenke, went to the hospital after Liu had told him about the accident.
The doctors said Qin, who was suffering from a serious bone fracture and was in the hospital's intensive care unit for treatment on Thursday, was not in danger because she was able to receive timely medical treatment.
Liu Runhua, deputy director of the Guangdong provincial commission of social work, said most Cantonese people are kind-hearted and like to help others.
"Those who ignore the dying make up only a handful of people in the province," Liu told a forum audience on Thursday.
"But cases when dying persons aren't given help, or when good Samaritan get into trouble, are often widely reported by the media, which tends to make the public concerned," he said.
Tan Fang, a professor from South China Normal University, said the media should pay more attention to the deeds of good Samaritans to make the public more aware of the importance of helping those who are in need.
"And those who sacrifice themselves to save somebody else should be highly praised, rewarded and protected to help encourage more people to do good deeds," Tan said.
Liu Jisheng, director of the Guangzhou Foundation for Justice and Courage, said the city plans to give greater rewards to those who help others.
A proposed regulation meant to protect the rights of good Samaritans would give the families of those who risk their lives to save others up to 500,000 yuan ($78,325), according to Liu.