Just ask the professor
Updated: 2011-10-20 11:04
By Wang Kaihao and Li Yu (China Daily)
| | | | | | | | | | | |
| --- | --- | --- | --- | --- | --- | --- | --- | --- | --- | --- |
|   | | Comments() | | Print | | Mail | | Large Medium  Small | 分享按钮 | 0 |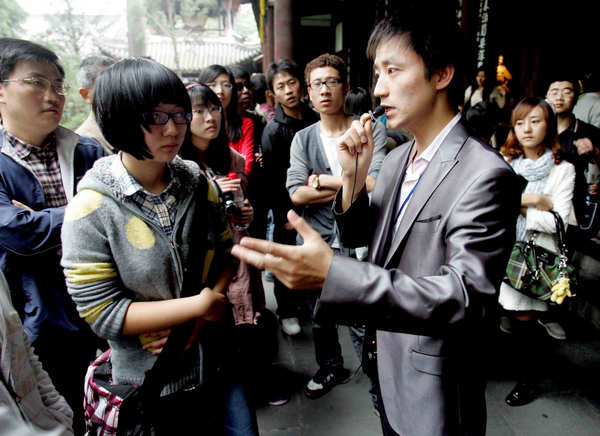 Li Zhi (right), a tour guide at the Wuhou Temple in Chengdu, Sichuan province, introduces the temple to tourists. The 25-year-old is popular among tourists because of his humor. [Li Xiangyun / for China Daily] 
CHENGDU - Asking Li Zhi a question is like clicking on the "search" button in Wikipedia.
Dressed in a formal suit, the tour guide at an ancient temple answers in a rhythmic and speedy voice, filling his narration with ancient poems, quotes and jokes.
On a recent Monday evening he talked in a tongue-twisting manner without pause until a tourist interrupted by pointing to a piece of calligraphy on the wall and asking, "Can you explain this a bit for me?"
Li, a mere 25 years old, immediately gave a speech on the writing that so impressed those gathered that they clapped.
"He knows how to catch your attention in the shortest time through his concise but humorous language," said Song Zhixing, a tourist from Hebei province.
"This man knows much more than an average guide."
So much so that someone posted online during the National Day holiday that he was a "professor-level guide".
Li's area of expertise is the nearly 1,800-year-old Wuhou Temple, which pays tribute to the great politician Zhuge Liang of the Three Kingdoms (AD 220-280) period.
Li said reading and studying Romance of the Three Kingdoms since the age of 14 opened a gate for him to be a grassroots specialist.
The historical novel was based on the country's turbulence in the late Eastern Han Dynasty (AD 25-220) and the Three Kingdoms period.
Zhuge Liang has long been recognized as one of the wisest premiers and greatest strategists in the Chinese history.
He was also an accomplished scholar and inventor, and is universally respected by people for his diligence and loyalty. He has become a half mythical figure in many literature works.
"It's Zhuge who has guided me to this job," Li joked.
Li had an offer for a decent job from an IT company after graduating in 2006, but turned it down, instead working at Wuhou Temple as a security guard.
"I need to earn more money to take some responsibility," Li said. "However, as a young man, it is more important to pursue my dream step by step."
As he patrolled the temple, Li also had the chance to explain exhibition items to visitors.
"The only thing that bothered me was I had to concentrate on my duties and could not read books during office hours," he said.
Li became a guide at the temple half a year later because of his encyclopedic knowledge, but he was not well received at first among visitors.
"He didn't shave his mustache, nor wipe his shoes clean, and he wore untidy clothes," said He Hongying, a staff member at the temple.
"He even quarreled with the tourists."
Li has since learned to control his temper because more and more visitors complained about his attitude and he was warned he could be fired.
"I should make a good impression on the visitors, or none of them will follow me because I don't have a beautiful face like my female colleagues," he said about why he started to wear suit at work.
After the online post praising him, Li was offered a sales position by a real estate agency.
He declined the job, saying: "Many people suffer high pressure from work, but I'm lucky because I work to have fun."
Li's parents divorced when he was four. He was brought up by his grandmother, who drummed her passion for traditional Chinese operas into him. His love for operas developed into a strong interest in history.
He also performs martial arts and crosstalk, a form of verbal repartee, in his spare time.
"I don't like night clubs because I feel dizzy there," Li giggles. "However, I'm not insulated from modern fashion. I also often go to karaoke with my friends."
Liu Shuangze contributes to this story.