Mother testifies to good character of rescuer
Updated: 2011-10-18 07:23
| | | | | | | | | | | |
| --- | --- | --- | --- | --- | --- | --- | --- | --- | --- | --- |
|   | | Comments() | | Print | | Mail | | Large Medium  Small | 分享按钮 | 0 |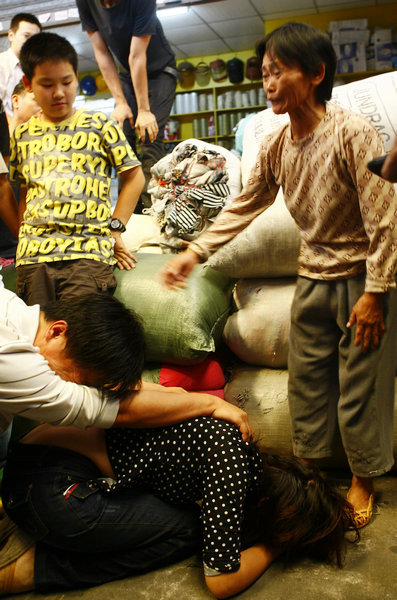 The parents of Yue Yue, a girl who had been run over by two vehicles, kneel down on Sunday to thank Chen Xianmei, who have moved their daughter to a safe place. [Provided to China Daily]
GUANGZHOU - Despite critics' disparagements of the woman who rescued a 2-year-old girl this past week in Foshan, Guangdong province, the girl's mother said she believes the rescuer is a good person.
"I don't have enough words to thank her with," the mother, who would identify herself only as Qu, said at the hospital on Monday.
Her praise was for Chen Xianmei, a 57-year-old woman who moved Qu's daughter Yue Yue to the side of a road after the girl had been run over by a van and a truck in a hardware market this past Thursday. Before Chen came to the rescue, 18 people had walked past Yue Yue without helping her.
A number of shopkeepers close to the accident scene denied that they had witnessed what had happened. Chen was the first person to offer help.
The rescuer hails from Qingyuan, Guangdong province, and lives with her son in Foshan, cooking meals at a small company in the morning and picking up rags in the afternoon.
According to Qu, Chen would occasionally remove refuse from the shop Qu runs in the hardware market.
"Every time she saw used cartons or plastic bottles, she would ask me, 'Do you still want them or not?' before she collected them," Qu said. "She is a good person. There is no doubt about that."
Learning of the case, the public has poured out its anger on the passers-by who ignored the girl while praising Chen for being the only person at the accident scene who gave evidence of possessing a conscience.
Recalling the accident, Chen said: "I was picking up trash in the hardware market when I saw a child lying in the road. I walked up in a hurry to the girl and heard her groan. I lifted her up and saw that one of her eyes was closed, that she had tears in her eyes, and she was bleeding from her mouth, nose and the back of her head.
"I wanted to carry her but she was soft and collapsed immediately. I was scared to try again and so I dragged her to the side of the road and shouted for help. But nobody showed up," Chen was quoted in Yangcheng Evening News as saying.Chen asked a few nearby shopkeepers who the girl was and only heard "I don't know" in reply.
Chen said she was not afraid of being wrongfully blamed for the accident. "When I see old people who fall down, I help them," she said. "Somebody has to help. The most important thing is to save a life. She was just a little child. It was dark, but I could definitely see her."
Since the rescue, Chen said she has been bewildered by the number of requests for media interviews she has received. She also heard that critics have accused her of helping the girl merely out of a desire for publicity.
Her daughter-in-law, who declined to state her full name, said those comments have been disappointing.
"Is it really so difficult to be a good person?" she said.
Qu said she puts no stock in what the critics are saying.
"I am truly grateful," she said. "She is really kind, not the type of person who enjoys publicity."
Speaking of the indifferent passers-by, Qu said: "I won't judge them. Let them make their own judgment. If they are married and have children, they will know. But I bear no grudge and refuse to be disappointed by society. Many kind people have come to help."
Qu said she plans to stay by her daughter's side at the hospital where the girl is undergoing treatment.
"I didn't care for my child very well, and it's my fault," she said. "But Yue Yue can't leave her mother and her mom won't leave her."
Yue Yue, who remains in a critical condition, underwent a special test of her brainstem on Monday. The results of that will show whether she is brain dead, said Wang Weimin, director of the neurosurgery department of the General Hospital of the Guangzhou Military Command of the People's Liberation Army. The hospital said the test results will be made public on Tuesday.
Yue Yue's mother wrote on her micro blog that her daughter's four limbs have shown signs of having feeling and a doctor said her progress has been much better than expected.
Meanwhile, the civilization office of Foshan's Nanhai district presented 10,000 yuan ($1,570) to Chen on Monday as a reward for her kind deed, said Guo Yu, director of the office.
"I feel indignant and disappointed about the passers-by, who should reflect on what their behavior says about themselves," he said. "It wasn't that difficult to help the girl, and Chen Xianmei did it out of her heart and conscience."
Charity groups have received donations for the girl and Chen, Guo said.
As for the drivers who hit Yue Yue, one has been caught by the police and the other has turned himself in, Wang Zhen'an, chief of the Foshan traffic police, said on Monday.
Tan Xuezhen and Xue Yutong contributed to this story.