Village builds famous copies to draw tourists
Updated: 2011-10-12 07:40
| | | | | | | | | | | |
| --- | --- | --- | --- | --- | --- | --- | --- | --- | --- | --- |
|   | | Comments() | | Print | | Mail | | Large Medium  Small | 分享按钮 | 0 |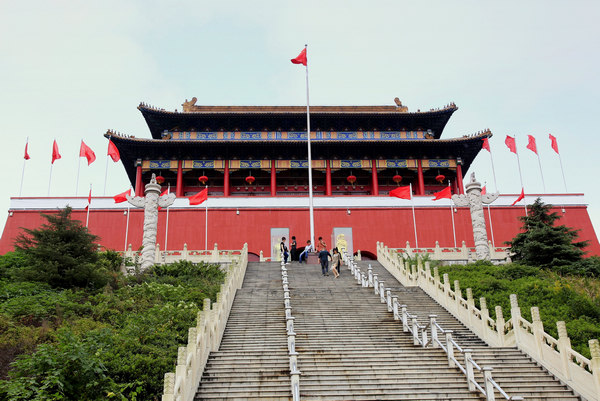 A replica of the Tian'anmen Rostrum, which was built in Huaxi village in Jiangsu province recently. Deemed the richest village in China, Huaxi has invested a lot of money in replicas of historical sites. [Provided to China Daily]
SHANGHAI - The majestic Great Wall and the formidable Tian'anmen Rostrum.
Travelers no longer need to go to Beijing to find these sights in fairly close proximity to each other. If replicas rather than original structures are good enough, they can now see them in a Jiangsu provincial village.
Apart from these, tourists can also see replicas of the US Capitol building, the Arch of Triumph in France and the Sydney Opera House by going to Huaxi village, which is deemed the richest village in China.
The replicas have not necessarily proved to be popular. They began to draw complaints from netizens as soon as pictures of them were put online. Most of the critics blamed the village for showing off its wealth at a time when many similar places are still struggling to emerge from poverty.
"It would be much wiser if Huaxi village chose to donate the money to other villages that don't have as much money, instead of putting up these lavish buildings," said Wang Nanqing, a netizen.
The village's replicas were built years ago as part of its attempt to develop its tourism industry, a village officer said.
"We copied places of interest in China to show people how beautiful our country is and to make them feel more patriotic," said an official in charge of Huaxi village's tourism industry who declined to state her name.
"The replicas of foreign places of interest also help attract more tourists to our village."
Of all of the structures recently put up in the village, none has provoked netizens' anger as much as the 74-story Longxi International Hotel, which began welcoming guests on Saturday.
To put up the landmark, the village spent 3 billion yuan ($470 million) over the course of four years.
Zhou Li, deputy Party chief of the village, said the building "is a symbol of collectivism".
Displayed on the tower's 60th floor is an ox made of a ton of gold and costing 300 million yuan. Following China's opening-up and reform in the late 1970s and a subsequent business boom, Huaxi village, which was once a small poor farming village in East China, has become a symbol of the tremendous gains China has made in prosperity in the past three decades."Casting off poverty and setting out on a road to prosperity is a good thing," a netizen wrote on a micro blog. "But it is backwards and foolish to show off their pride in this way."
Qiu Yue contributed to this story.