High-end home help
Updated: 2011-09-11 07:42
By Wang Yan and Duan Yan (China Daily)
| | | | | | | | | | | |
| --- | --- | --- | --- | --- | --- | --- | --- | --- | --- | --- |
|   | | Comments() | | Print | | Mail | | Large Medium  Small | 分享按钮 | 0 |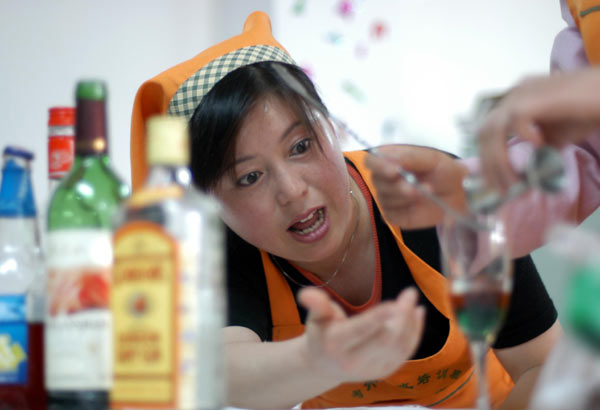 A nanny-in-training at the Nanjing Gangkou Occupational School. She and her fellow students are learning how to mix a perfect cocktail as they prepare to work for expatriate clients. [Photo by Lang Congliu / for China Daily]
Good domestic help has always been hard to find, and it's getting even harder as rich Chinese families compete with expatriates in the country to attract the best nannies and tutors. Wang Yan and Duan Yan report in Beijing.
In the few months that Zhang Ying worked as a tutor with a British family in Beijing, her employers tried out four housekeepers in succession. Zhang herself was pretty nervous when she first started working with them as she had never dealt with foreigners before.
The 24-year old graduate student was employed to teach the eldest daughter, who was in fifth grade in primary school.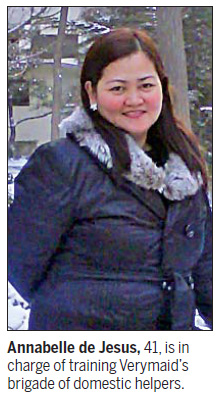 Zhang was anxious to keep her employers happy and she went armed with a picture dictionary and little gifts for her charge. But only a few months after she started the job in 2007, she was replaced.
"I was 'eliminated' because I could only tutor," she says, adding that her replacement was an ayi (a polite Chinese term for nanny or domestic help) who could handle the house cleaning, baby-sitting and also spoke a little English.
Finding such a well-qualified ayi was not easy, and Zhang Ying's former employers had to try four other prospects before they got the ideal candidate. Zhang now works in media.
Three years later, it's even more difficult finding good domestic help, according to Yin Jianfeng, general manager of Beijing Verymaid Inc, a nanny agency that caters to more affluent families.
"More and more well-off Chinese families can now afford high-end maids and this makes offers from foreign families less competitive," Yin tells China Daily.
"The usual remuneration for maids working in expatriate families is between 3,000 ($454) to 4,000 yuan a month, which many of our Chinese clients can well afford. In fact, some baby-sitters working for Chinese families can make up to 6,000 yuan a month," he says.
"It's hard to find a good ayi who can speak English if you pay any less. These ayis will rather go to Chinese families who can pay more."
Yin says foreign families now make up about 10 percent of his clientele, a drop from about 15 percent last year, even as the company's business is expanding mainly from more Chinese clients.
"Expatriates in China are actually competing against the country's new upper and middle-class families for good servants. It's no longer like three or five years ago when working for a foreign family gave the ayis a sense of superiority. The newly wealthy Chinese families have changed that."
A research paper published at the end of 2008 by Fudan University defines the nouveau riche of China as those who are "between the ages of 25 to 50 with specialties in business, academia, investment or the arts".
Among them, 5 million have an annual income of more than 1 million yuan while about 50 million earn annual incomes of between 300,000 to 1 million yuan.
Yin cites the example of one client, the head of an orthopedic hospital, who spends about 5,000 yuan on an ayi hired from Beijing Verymaid. Another client, who has settled in a villa in a Beijing suburb, hired different ayis for cleaning the house and his new baby.
Yin says clients come to his company because it is different from other agencies, which are mainly "intermediaries" whose main responsibility stops at matchmaking employer and employee. There is no "after-sales service".
"We're different. We hire ayis as our employees and then provide services to our clients."
It does mean that Beijing Verymaid incurs an extra cost of 1,000 yuan a month per maid, but Yin says it's worth the investment as the returns are credibility and a good reputation.
That means his company can tailor the services provided to a client's needs.
"Foreign clients care more about professional skills and Chinese clients care more about good personalities - both important qualities in an ayi," he says.
That is not to say expatriate employers do not care about personality, Yin explains, but more that foreigners find it harder to get personal with the help because of the language or cultural barriers. Hence, their attention is concentrated on the ayi's ability to clean well, or if she can be depended upon to turn up for work on time.
English skills are preferred but not required, he adds, simply because it's just too hard to find a good ayi who can also speak the language well. For Yin's company, there is an initial filter before the maids are offered to foreign clients.
"They either have to have previous experiences serving a foreign family, or they have a good education background and the ability to learn quickly. Understanding English is a bonus. It's not a job just anyone in the industry can do."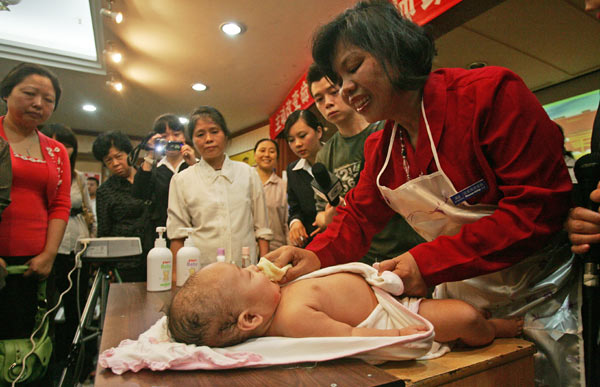 Filipina nanny Joy shares her baby massage knowledge with a group of Chinese domestic helpers in Southwest China's Chongqing. [Provided to China Daily]
What about the difference between working with expatriates, and working for Chinese families?
"Many Chinese families let the ayi live with them, but foreign families hardly ever do that. Chinese families offer higher pay, but they may add extra tasks or responsibilities. Expatriate employers stick to the contracts."
Song Yi, 26, still prefers working for expatriates. This young lady from Sichuan province has been working as an ayi in Beijing for three years now as an independent operator. She works for about seven families at the same time, doing laundry and house cleaning.
"I like working for foreigners," Song says. Although she cannot speak any foreign language, she gets by with basic Putonghua.
"The Italian guy I work for is very polite, and always hands me the money with two hands."
Song also got more work through his recommendations to friends.
"When I asked him for a pay rise earlier this year, he agreed immediately." Song is now paid 20 yuan per hour.
Like Song, many helpers working for expatriates get more work through word-of-mouth, rather than by going through agencies.
But Yin disagrees that this is a good system.
"The fact that an ayi is doing a good job does not guarantee a satisfying reference for another employer."
He insists maids need to be trained and that's why he puts it into practice by hiring a trainer for his maids.
Annabelle de Jesus, 41, a Filipina, is now deputy manager of Verymaid's training department.
She arrived in Beijing a year ago to coach the company's employees on professional housekeeping. She takes classes of 10 students, and each course lasts about 10 days.
"Filipinas are very house-proud, loyal and hard-working. We work not only for money. We treat the children as our own children, and as we clean, we think, this is our house also. That's why our employers are always so happy with us," de Jesus declares.
She says the Chinese ayis are grouped into different categories, like housekeepers and baby-sitters. ("I have a detailed PPT on that.")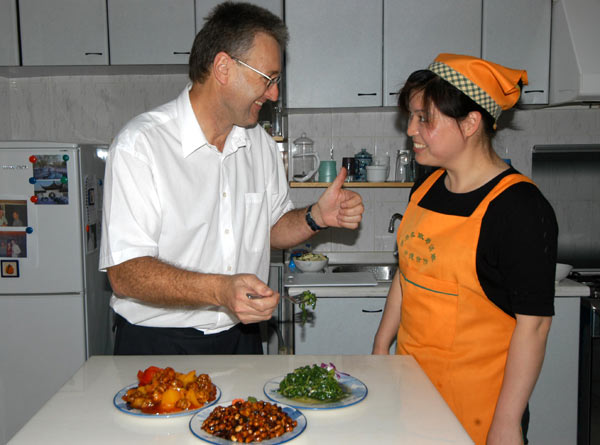 Li Donghong, an ayi who trained at the Nanjing Gangkou Occupational School, gets the thumb-up for her cooking from a happy Austrlian client. [Photo by Lang Congliu / for China Daily]
During training, the ayis are not asked to learn English although "if she wants to go to work for an expatriate family, she needs to at least understand English".
"Sometimes I teach them English," de Jesus says. "They are very interested to learn, and every time they master a word, I am happy for them. Just simple words or phrases - 'You eat? You hungry? Good morning, bye ... hello.'"
Besides training, Annabelle also pay visits to clients to find out how things are working out. Sometimes there are complaints, especially about sinks and toilets.
"I would teach the ayis again on how to properly clean them. Or sometimes, I do the job myself," Annabelle adds that Chinese ayi has a long way to go to catch up with the world-famous Filipina housekeepers, but she's happy if they can be half as good. Verymaid's Yin is now trying to hire another Filipino trainer because he feels that the lack of properly trained high-end domestic help is not because there are not enough maids, but more because there is a lack of efficient management and a proper supply chain.
"After all, China has a huge population and the service trade generates the most jobs.
"The household service industry is promising and we look forward to expanding to other cities when we have enough ayis."
Hot Topics
President Hu Jintao sent festive greetings to teachers ahead of national Teachers' Day, which falls on September 10, during his visit to Beijing No. 80 High School on Friday.