Donated liver a lifesaver
Updated: 2011-08-17 08:33
By Zhou Wenting (China Daily)
| | | | | | | | | | | |
| --- | --- | --- | --- | --- | --- | --- | --- | --- | --- | --- |
|   | | Comments() | | Print | | Mail | | Large Medium  Small | 分享按钮 | 0 |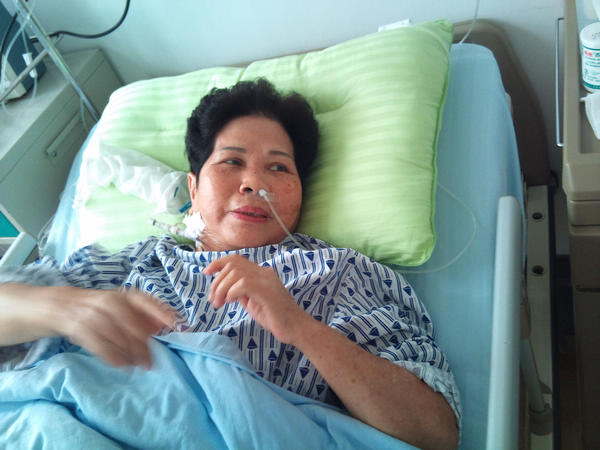 Pan Shou, a 64-year-old Taiwan native, recovers from a liver transplant after one week on the waiting list in the Tianjin First Center Hospital on Monday. She is the first to benefit from the new national China Organ Transplant Response System, which went into effect in December. [Zhou Wenting / China Daily]
BEIJING - Pan Shou's children are happy to hear her complain about the hospital bed being too soft.
One week ago she was a cancer patient waiting for a donated liver. Now her life has been extended by a successful transplant, and she is recovering in hospital on a bed too soft for her liking.
"We were prepared to wait here for three months, and never expected the donated liver would come so quickly," said Pan's 43-year-old son Hua Zhengkun in the Tianjin First Center Hospital on Monday.
Pan is the first person to be matched with a liver donated across provincial lines through the new national China Organ Transplant Response System, which went into effect in December.
The 64-year-old Taiwan native, who worked in a factory before her retirement, was diagnosed with cirrhosis a decade ago, and last year doctors found a tumor in her liver.
She was admitted to the Tianjin hospital on Aug 4, and was put on the waiting list.
"A donation from family members was proposed first, but the four of us (Pan's children) were not her match," her son said.
"We'd prepared for a three-month wait in the hospital, at 600 yuan ($94) for the ward every day," the son continued, pointing to a row of instant noodles under the TV stand.
He also bought a small stove and electric rice cooker, fully prepared to wait for three months in the hospital.
"Meanwhile, we were afraid the wait might be slower than the speed the tumor was developing, and we would lose the chance for a transplant," Hua said.
According to Sun Liying, head of the transplant medicine department at the hospital, the ratio of patients on the waiting list and those who received operations with donated organs in China is 150 to 1.
"A two- or three-month wait is inescapable, or even a year," Sun said. "Some patients can't survive the wait if the disease is aggravated."
Moreover, Sun said, the transplant operation is special. "It can only be achieved with a supply of donated organs, not just with skilled doctors working extra hours."
But fortune arrived for Pan on Aug 10 after doctors found a donated match through the national system from a 6-year-old girl who drowned in Guangdong province.
"We hadn't expected to become the beneficiary of the first organ transplant across provincial lines that succeeded with the help of the national donor-match computer system," Hua said. "And we felt it incredible that the transplant could be done that day."
The national system was established to ensure the quick, accurate and fair distribution of donated organs and information about their supply and demand.
"We also want to avoid wasting donated organs, to know more about where those in need of organs are and to promote organ donations," Wang Haibo, director of the system, told China Daily in a previous interview.
Three days after her surgery, Pan was transferred to a general ward.
"We are truly thankful to the little girl and her parents to extend the girl's life through my mother," Hua said.
"My father died of illness 23 years ago, so we don't want to lose our mother after she raised the four of us alone," continued the son. "We now feel relaxed."
On Monday afternoon, the mother asked her son to buy a bamboo mat and put it on her bed. She finally stopped complaining about her bed and kept saying how good it was to have a hard and cool bed.
The man said her mother's survival with a stranger's liver changed his opinion of organ donation.
"It does good to others although it goes against the traditional Chinese thinking to have a full body to rest in peace," he said.
"I am now considering a registration for becoming an organ donor after I die."
Hot Topics
Rainstorms cause flooding in Gannan Tibet autonomous prefecture, Gansu province, on August 15, 2011.