Sino-Russian partnership cemented as leaders pursue common interests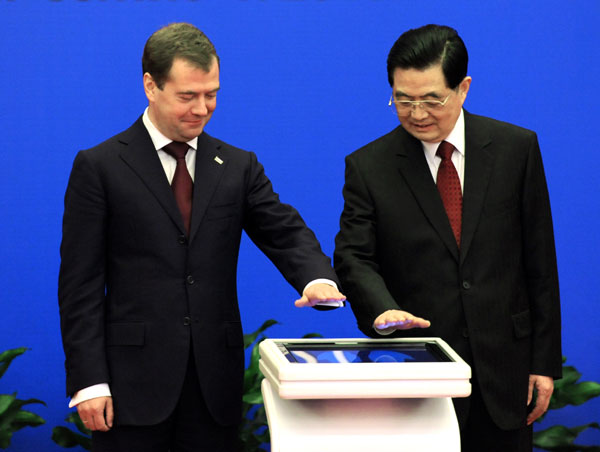 President Hu Jintao and his Russian counterpart Dmitry Medvedev attend a ceremony to mark completion of an oil pipelline project between the two countries at the Great Hall of the People in Beijing on Monday. [Wu Zhiyi/China Daily]
BEIJING - China and Russia signed more than a dozen agreements on Monday to boost energy cooperation as leaders of the two countries hailed a deepening strategic partnership.
President Hu Jintao and Russian President Dmitry Medvedev witnessed the signing of 15 commercial deals as well as one on fighting terrorism, separatism and extremism.
One of the key deals was signed by China National Petroleum Corporation (CNPC) and Russia's Transneft over the operation of the oil pipeline that stretches from Skovorodino in eastern Siberia to Daqing in Northeast China.
The Russian section of the pipeline was completed last month, and the two leaders attended the completion ceremony of the Chinese section after their meeting on Monday.
"The two nations should ensure the safe and normal operation of the oil pipeline, and reach the designated amount of oil supply as early as possible," Hu said during the talks. He called the pipeline a "milestone" for energy cooperation between the two countries.
According to contracts signed earlier, Russia is due to supply oil to China through the pipeline, nearly 1,000 km long, from Jan 1 next year with an annual capacity of 15 million tons of oil.
CNPC also signed an agreement with Russia's Gazprom, the world's largest gas producer, to export natural gas to China.
Russia's Itar-Tass News Agency said Russia is planning to launch gas supplies to China in 2015 and to sign commercial contracts before the middle of next year.
Gazprom said that under that agreement it will supply China with 30 billion cubic meters of gas annually for 30 years starting in late 2015. The final deal is expected to be signed next summer, the AFP reported, quoting Gazprom.
"Russia is ready to meet China's full demand in gas," Itar-Tass quoted Russian Deputy Prime Minister Igor Sechin as saying.
Sechin also said bilateral cooperation in the gas industry is strategic. "Russia is China's natural partner," he said.
Other deals signed include a protocol of memorandum of understanding on coal cooperation and a strategic agreement on peaceful utilization of nuclear energy.
A letter of intent on investment between the China North Industries Corporation and RUSAL, the world's largest aluminum producer, was also signed as was a contract on the design for the No 3 and No 4 units of the Tianwan Nuclear Power Plant in Lianyungang.
An additional agreement on buyer's credit for export between the Industrial and Commercial Bank of China and Russia's VTB Bank was signed as well.
The two presidents also issued a joint statement on the 65th anniversary of the end of World War II.
Medvedev said the documents would give a "new impetus" to the Sino-Russian relationship.
"Never before have our ties been characterized by such a high level of mutual trust," Medvedev said, adding that his government welcomed Chinese investments in high-tech industries including aircraft production.
Related readings:


 China,Russia mark completion of crude oil pipeline


 Key pacts to be signed as Medvedev starts visit


 Russian nuclear company to work with China in 3 projects


 Chinese, Russian presidents hold talks


Medvedev urges youth to carry on Russia-China friendship
Hu and Medvedev touched upon all the major international issues of common concern.
"It is an unshakable principle that the two countries' cooperation on global issues are within the framework of our strategic partnership," said Medvedev, vowing that it has always been a priority in Russian diplomacy to develop the strategic partnership with China.
Hu called for the two countries to further strategic cooperation in international and regional affairs, and "continue to firmly support each other in important issues that concern each other's core national interests".
Chinese experts see the meeting and signing of agreements as a "new era" between the two countries that have a lot of core national interests in common.
Lin Boqiang, director of the China Center for Energy Economics Research at Xiamen University, considered the gas supply deal as especially important.
"It means that all-round cooperation is to be launched," said Lin, noting the meeting and the agreements meant Sino-Russian ties on energy had entered a "new era".
Russia's intent to strengthen its role in the Asia-Pacific region drives its cooperation with China, said Ding Peihua, a researcher on Russia studies at the Shanghai Academy of Social Sciences.
"The two countries are both new emerging economic powers and members of BRIC (Brazil, Russia, India and China)," noted Ding. "They have a lot of common interests such as anti-terrorism".
According to Ding, another factor driving Russia's cooperation with China is its wish to play a larger role in the Asia-Pacific region.
"Although Russia and the United States want to cooperate, their current and historical divergences of interests hinder substantial results in their cooperation," said Ding.
It was the fifth meeting between Hu and Medvedev this year. Top legislator Wu Bangguo and Premier Wen Jiabao also met Medvedev on Monday.
The Russian leader brought a large delegation for the three-day visit which started in Dalian on Sunday. Medvedev will go to Shanghai on Tuesday.
Pan Zhanlin, a specialist on Sino-Russian relations and former Chinese ambassador to Yugoslavia, said the joint statement of strategic partnership proves that the fundamentals of bilateral relations have not changed and the strategic partnership is deepening.
Pan said although Russia needs technology and capital from the West, it also values relations with the East. "Its two-direction diplomacy are parallel, not contradictory," said Pan.
Yang Jing, Wang Chenyan, Xinhua and AFP contributed to this story.