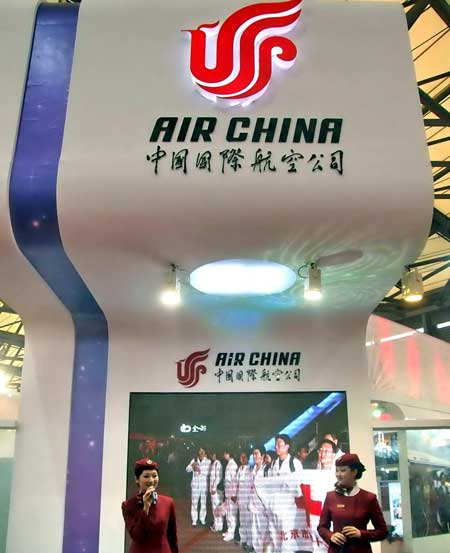 An Air China stewardess speaks while one of her colleagues looks on during a promotional event held by the country's leading airline company in Shanghai. The Civil Aviation Administration of China and the National Development and Reform Commission jointly announced that as of July 1, airline companies on the mainland were free to set prices for both coach and first class flights. Jing Wei / for China Daily 
SHANGHAI - The surge in domestic airfares has given business travelers in Shenzhen and Guangzhou an idea.
Take the bus to Hong Kong's international airport, stock up with duty-free goodies while waiting for the flight and settle down to business class comfort all the way to Shanghai or Beijing with the smug feeling that you're paying less than a direct flight from your home town.
The latest business class fare from Shenzhen to Shanghai has gone up more than 30 percent since July to 2,800 yuan on China Eastern compared with 2,550 yuan from Hong Kong to Shanghai. Business or first class fares on all domestic flights have soared by 20 to 50 percent after the government withdrew its controls on June 1, 2010.
The Civil Aviation Administration of China (CAAC) and National Development and Reform Commission (NDRC) jointly announced that as of July 1, airline companies on the mainland were free to set prices for both coach and first class flights. Before that, all domestic flight prices were controlled by the CAAC. The aim was to allow airlines more freedom to compete, resulting, as CAAC wanted, in a lowering of domestic flight prices and improved services.
Instead, domestic flight fares for both classes have soared. Discount fares for coach on most routes have all but disappeared. The increase was particularly steep for flights between major cities. Coach fares for the Shanghai-Beijing flights of all the major airlines, including Air China, China Eastern and China Southern, have gone up uniformly to an average 1,130 yuan. In the past, discount fares on some flights were as low as 300 yuan.
Before the liberalization of air fares, a first class ticket was set at about 1.5 times of that of the pre-discount fares for coach. Now, they are "at least twice as much as that of economy", said Michael Peng, sales manager of Shanghai Business International Travel Service Co.
On average, air ticket prices soared between 20 and 80 percent under the new regulations. Major airlines including Air China Ltd, China Eastern Airlines Co Ltd and Shanghai Airlines Co Ltd all launched a widespread ticket price lift, and popular routes including Shanghai to Beijing and Beijing to Shenzhen have gone up the most.
First class seats cost up to 2.3 times that of economy class for flights from Beijing to Shanghai, Shenzhen and Guangzhou with Air China. Most domestic flight operations only offer two classes. Some airline executives attributed the price hike to sharply increased demand stemming from the flood of visitors to Shanghai for the 2010 Expo. But that obviously doesn't explain the price increase on many other routes, said Peng.
Although there are worries that sizable price rises may hurt recovery in the travel market and lose some clients, airlines seem confident of the market-pricing mechanism. Luo Zhuping, board secretary of China Eastern, said the price hike is a signal of air ticket shortages.
"The second and third quarters are the peak season for airlines. The air tickets are more expensive during this period of the year. We cannot simply attribute the price rise to the implementation of the new policy," said Luo.
You Jianxin, professor in management science in the School of Economics and Management at Tongji University, said the policy was more market-oriented.
"I call it a step forward. Customers do not need to panic. There were also some price fluctuations when the right to fix airfare pricing was given to airline companies six years ago. But the following discounting and promotional activities offset the price rise," said You.
Considering the small amount of first and business class seats, very few people will actually find themselves affected by the price change, said Peng. "After all, those who book the more expensive air tickets are less sensitive to price rises," he added.
Peng said high airfares will not remain for long because there will be a cool-down period after the Expo wraps up. "We are currently at a very special time. The ongoing Expo is significantly jacking up the demand for air travel but things will change after Oct 31 when the event ends," said Peng.
But for ordinary passengers who have to pay their own travel fees, any rise in prices may lead to a great change in their travel plans. Jiang Xiaoxue works in the sales department of the Wuxi branch of Bank of China and receives an annual income of more than 100,000 yuan. As a keen traveler, Jiang plans a trip almost every month. During the past three months she found the price of economy class air travel constantly rising.
"Air ticket prices rose by 300 yuan on average from July to September," she said.
Furthermore, the high-speed rail link between Shanghai and Beijing will also affect air travel. "The high-speed railway between Wuhan and Guangzhou has already caused the cancellation of some flights between the two cities, and it is very clear that high ticket prices won't help airlines retain their clients," said Peng.
A first class train ticket from Wuhan to Guangzhou costs around 750 yuan, against a first class airfare of 1,670 yuan before tax with China Southern Airlines Co Ltd. Although the ticket price of a high-speed rail journey between Beijing and Shanghai, due to come into operation in 2012, is still under discussion, experts believe it will be much lower than the price of a flight. First class air tickets between the two cities are priced at 2,830 yuan with China Eastern.