DALIAN - Russian President Dmitry Medvedev on Sunday called on the young in Russia and China to pass on the friendship forged during World War II.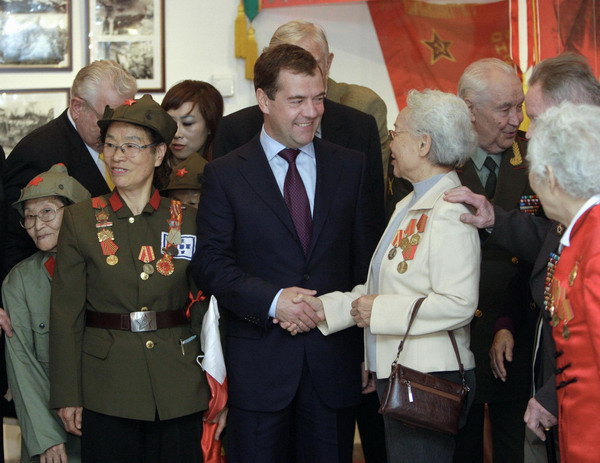 Russia's President Dmitry Medvedev (C) meets with Chinese World War II veterans in the area of Lvshun, September 26, 2010. [Photo/Agencies] 
Medvedev made the call in a meeting Sunday morning with more than 20 veteran Chinese and Russian soldiers who participated in China's War of  Resistance against Japanese Aggression (1937-1945), part of WWII.
Related readings:


 Energy meeting paves way for Medvedev's China visit


 Medvedev set for state visit to China


 Energy talks underlay Medvedev's China visit


 Medvedev set for state visit to China
The Russian leader, who arrived in the northeast China's port city of Dalian Sunday morning, first laid flowers at a monument commemorating Soviet Union war martyears.
In the following meeting with Chinese and Russian veterans, Medvedev said Russians and Chinese forged profound friendship in their joint fight against the Nazis, and such friendship constituted the solid foundation for the relationship between the two countries.
The Russian President thanked Russian and Chinese veterans for their contributions to peace.
He also thanked China for renovating the memorial, which was one of more than 70 memorials commemorating Soviet Union war martyears throughout China. All those memorials had been refurbished to mark the 65th anniversary of the victory of WWII.
Dalian was the first stop of Medvedev's three-day visit to China. This was also Medvedev's second state visit to the country since he assumed presidency in May 2008.
Later Sunday, Medvedev flew to Beijing to continue his state visit to China.
During his stay in Beijing, Medvedev will hold talks with Chinese President Hu Jintao and call on other Chinese leaders, including top legislator Wu Bangguo and Premier Wen Jiabao.
Medvedev will also travel to east China's metropolis of Shanghai, where, on the next day, he will meet with Chinese Vice President Xi Jinping and attend events marking the Russia Day at the ongoing World Expo, which runs from May 1 to October 31.