Performers are flying high in Laiwu
By: Cui Xiaoqing
Pilots and athletes from 18 countries and regions are performing this week at the ongoing China international air sports festival in Laiwu, Shandong province.
"We aim to present a successful and globally influential event," said Huang Sheng, vice-governor of Shandong province.
The air sports gala features acrobatic and para motor flight performances, as well as competitive parachuting, light-helicopter, glider, hot-air balloon and model airplane flying.
Altogether, more than 700 persons from home and abroad are soaring above Laiwu. Participating countries include America, the UK, Japan, Russia, Germany, Sweden, Australia, South Korea and the Czech Republic.
Visitors can witness human pyramid making along with several other air shows by parachuters and powered hang-gliders.
World champion stunt flyers from Germany and Spain are scheduled to give performances.
"This is the perfect platform for a blossoming Chinese aero sports industry. It offers opportunities for international exchange and cooperation. Laiwu will become a world renowned city," said Pierre Portmann, president of the World Air Sports Federation.
Activities galore
The five-day festival hosts the China international stunt flying challenge, parachuting championship, simulated radio controlled flying championship and an open competition for model airplane lovers.
An aero sports equipment exhibition, aero photography competition, and hot-air balloon flame throwing show is held during the event.
The equipment exhibition showcases 10 light airplanes and display products by well-known Chinese model airplane and outdoor sporting goods manufacturers.
Organizers expect around 300,000 people will have attended the festival by week's end.
"I'm lucky to have the chance to watch such exciting performances; I will come back next year," said Cao Yan of Hong Kong.
The festival employs 1,000 volunteers and 2,000 staff. It runs through September 29 at Laiwu's Xueye tourist site.
The fair is co-sponsored by the State General Administration of Sports and the government of Shandong province, and undertaken by Aero Sports Federation of China, Shandong Provincial Sport Administration and Laiwu government.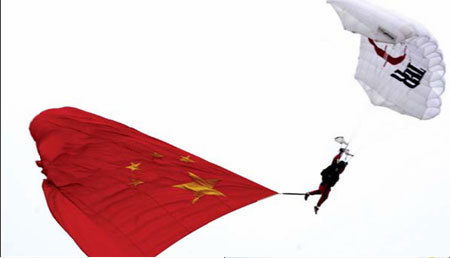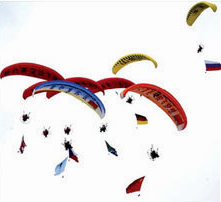 Plots and althlets from 18 countries and regions perform at the ongoing China international air     
 sports festival in Laiwu, Shandong province.[Photo by Ju Chuanjiang and Wang Qian/China Daily]

Sports tourism is on the rise
By Ju Chuanjiang and Wang Qian
A number of sports fans are headed to Laiwu in east China's Shandong province this week for the city's annual aeronautics festival.
"The local government is committed to making Laiwu the nation's air sports capital," said Mayor Ma Pingchang.
The city held the national paraglider and paramotor masters tournaments in 2007 and 2008. It is now the permanent host of the annual aeronautics festival, as ruled by the State General Administration of Sports this year.
During last year's event, athletes from 16 countries including France, the United States, Belgium and Britain attracted more than 200,000 spectators.
"The air sports festival lures large numbers of tourists and brings international attention to our city," said Zhang Zuoping, Laiwu deputy mayor.
Activities are held at the Xueye lake scenic area. Nearby is the 450 million yuan aviation technology sports park, home to an airfield, training center and leisure areas.
"China's aero sports industry is attracting more and more people. The construction of Laiwu air sports base will contribute greatly to its development," said Feng Jianzhong, vice-director of the State General Administration of Sports.
Unlimited possibilities
"The holding of the air sports festival brings unlimited business opportunities to Laiwu," Mayor Ma said.
In the past two years, aero sports have brought hotels and tourist resorts to the area, along with a Wenchang culture garden, yacht club and modern agriculture technology park.
Several well-known international enterprises such as Evergrand Group, Shandong Hi-speed Group and Joy International have settled in Laiwu.
Tourists to Xueye Lake have increased 30 percent in the past nine months, prompting plans to construct a one-sq-km tourist town and a 3-sq-km eco-orchard.
A 12-sq-km industrial valley will be built on the lake's north shore. It is set to be a center for the research, development and production of aircrafts and relevant products.
Laiwu is scheduled to hold the Asia and Oceania model airplane championship, China water skiing grand prix and China mountain bicycle games this year.