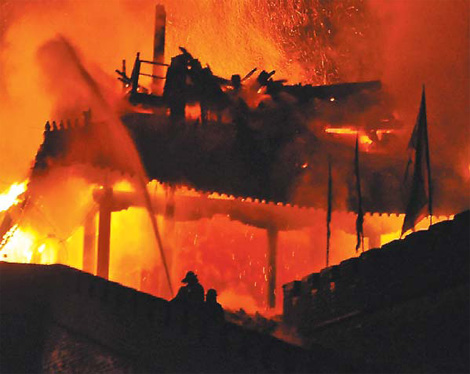 Firefighters battle a blaze at the Zhengding city gate tower in Hebei province on Thursday. [Xinhua]
An old Chinese saying goes that extreme joy begets sorrow. That was the case Thursday night when fireworks ignited the last standing tower on an ancient city gate in Zhengding county in North China's Hebei province.
Related readings:


 Sharp rise in injuries from fireworks raises alarm

 Illegal fireworks sales ablaze


 Four killed in fireworks factory blast in E. China


 Death toll from China fireworks blast rises to six
The tower, on the south gate of the ancient Zhengding city wall, was reported to be on fire at 8:19 pm, and was put out around midnight. No casualties or injuries were reported.
The local government estimated financial losses at approximately 1 million yuan ($146,000).
Local authorities said yesterday that a preliminary investigation revealed that fireworks ignited the blaze, China News Service reported.
The report did not say whether the responsible parties had been apprehended.
Zhengding's south gate, the last remaining tower on the fringe of the ancient city, was reportedly 1,600 years old. The east, west, and north gates have long been destroyed.
The two-story wooden tower was rebuilt in 2001 at a cost of 4 million yuan.
The tower blaze brought back memories for some of last year's fire at Beijing's newly completed Central China Television (CCTV) complex, which was also started by fireworks.
The 30-story building, just north of the gravity-defying CCTV tower designed by Dutch architect Rem Koolhaas, burned Feb 9 last year, during China's Lantern Festival.
The blaze killed one firefighter and injured six more, as well as injuring two construction workers.
Financial losses totaled 163.83 million yuan ($24 million).
A total of 71 people, including Zhao Huayong, former head of CCTV, and his deputy, Li Xiaoming, bear responsibility for the fire, the State Council announced earlier this month.
The latest figures released by the Beijing municipal government show that 90 fires were ignited in the capital and 347 fireworks-related injuries were reported between New Year's Eve and Thursday.
Meanwhile, the Nanjing Morning Post also reported yesterday that hospitals around the eastern city had many fireworks-related injuries. One local resident surnamed Zhang, was being treated in Nanjing People's Hospital's emergency room for severe burns to his mouth and eyes, according to the report.