Emergency response plan at top eye hospital launched to deal with accidents
The number of fireworks accidents has rocketed since 2006, after the municipal government resumed its policy to allow fireworks over the lunar festival.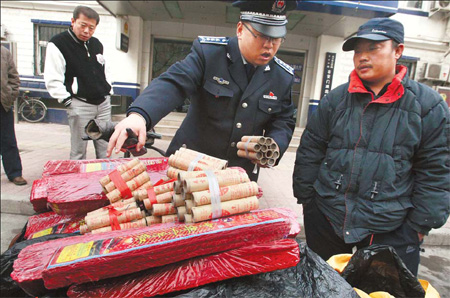 An urban administration inspector confiscates homemade fireworks from a vendor in Fengtai district on Tuesday. [Mirror Evening News] 
As many as 425 patients were hurt by fireworks in the first six days of 2009's Spring Festival, reported Beijing newspaper The First.
Of that figure, 231 patients were treated at Beijing Tongren Hospital, a key hospital that accepts patients hurt by fireworks.
That number was 100 in 2006 and 145 in 2007, and is increasing by about 40 cases every year, said Wang Ningli, deputy president of the hospital.
Alongside the general increase is a growing number of under-age patients at the hospital - 73 in 2009's Spring Festival, of which 55 were under 12.
An emergency response plan to handle fireworks cases was released by Beijing Tongren Hospital on Tuesday. Sixteen doctors, six more than in 2009, are scheduled to cover the Lunar New Year Eve shift. Thirteen are senior doctors with experience of treating eye injuries, and six senior nurses will assist.
Another four chief physicians will be on standby at any time during the festival.
"We are the last resort to deal with fireworks problems. It is much more important for the city to enforce strict safety regulations," Wang told Beijing News on Tuesday.
He said the control should begin with regulating the sale of fireworks by allowing only specialized stores permitted by the government.
Wang warned parents not to let their children use fireworks unaided. He said all fireworks injuries should be dealt with at a hospital.
Beijing Tongren Hospital has already received its first firework case this season, a pair of eye injuries from an accident on Monday.