Dairies shut; 170 tons of dairy product recalled
More than 170 tons of milk powder have been recalled amid a 10-day nationwide crackdown on melamine-tainted dairy products, authorities have said.
The recall is the latest of dairy products to resurface from a 2008 contamination scandal that hit the country.
Two dairy companies in the Ningxia Hui autonomous region were closed for selling tainted milk powder on Saturday, while candies made with tainted milk powder were found in Jilin province yesterday.
The two affected companies are the Ningxia Tiantian Dairy Co Ltd and Ningxia Panda Dairy Co Ltd, Ningxia's regional government said in a press conference on Saturday.
Ningxia police also found that another company outside the region paid the Ningxia Tiantian Dairy Co Ltd last July about 170 tons of milk powder - melamine-tainted products left over from the 2008 scandal that should have been destroyed - as debt payment.
From July to November last year, the company repacked 164.75 tons of the affected powder in their own packages and sold it to five factories in the Inner Mongolia autonomous region, Fujian and Guangdong provinces, police investigations showed.
About 72 tons of the milk powder have been recalled and seized and the authorities are tracking the rest of the tainted products.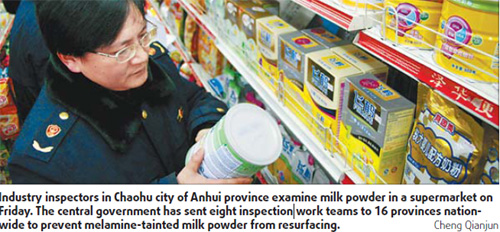 However, the Ningxia Panda Dairy Co Ltd was shut down because it was related to the Shanghai Panda Dairy Co Ltd, a company that was earlier closed for selling tainted milk last year.
Zhao Shuming, secretary-general of the Ningxia Dairy Industry Association, said: "Many small companies lack the technology to test melamine, an industrial chemical added to milk to boost false protein readings in quality tests."
"As a small company, the Tiantian dairy company doesn't have a machine to test melamine. Such a machine can cost up to 1 million yuan ($147,000). So many companies are just not able to check if the milk powder they buy is safe or not. But their repacking of the products is illegal," Zhao told China Daily yesterday.
Zhao said the latest findings have dealt a huge blow to the Ningxia dairy industry.
"The dairy industry in the region is export-oriented. Now most of its companies are in panic and worrying about possible negative impacts on their businesses," he said.
"Flaws in the previous system led to the current chaos. What if companies with tainted milk also hold back their stocks for this round of checkups and reuse them later, just like what's happening now?" he asked.
He said the association has issued an emergency warning to all companies in the region to conduct strict checks on milk products they buy.
The latest discoveries marked the second batch of tainted milk products found in the 10-day inspection that was launched on Monday last week.
The first batch of affected milk products found in the latest crackdown was identified in Shaanxi province last week, with three suspects subsequently detained.
A portion of the Shaanxi batch of tainted products had been sold to a company in Fujian, where candies were made with the milk under the brand name "Little White Mice".
The candies have been taken off shelves, local media reported yesterday.
Related readings:


 3 arrested in crackdown on tainted milk products


 Thousands of children compensated over tainted milk


 Tainted milk case 'cover-up' for a year


 Shanghai dairy shut over tainted milk products


 Compensation lawsuit over tainted milk postponed
Zheng Xiaoming, vice-governor of Shaanxi, said in a government meeting last Friday that starting from Wednesday, officials in charge of any tainted milk found in the latest crackdown will have to step down.
"The officials will be removed immediately from their posts once tainted milk products are found, before we start investigating the case," Zheng was quoted by local media as saying.
In Sept 2008, melamine was found in milk products of 22 dairy companies around the country.
The industrial chemical led to the deaths of at least six children and caused about 300,000 others to fall ill.