Taiwan man introduces special flavored fried chicken to mainland
FUZHOU: Xu Xiaobai's fried chicken shop is more like a simple roofed booth, but with colorful decorations and a large sign reading "authentic Taiwan flavor", it is able to pull in customers.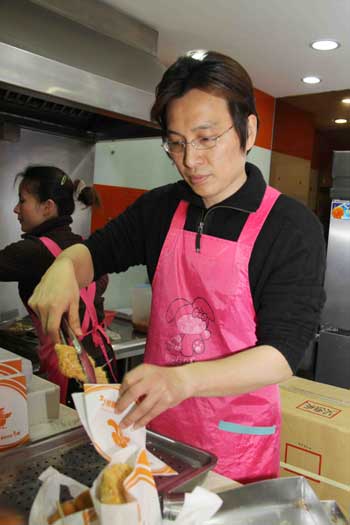 Xu Xiaobai, owner of a fried chicken shop from Taiwan, wraps up chicken steak at his shop in Fuzhou, capital of Fujian province. [Photo/Zhu Xingxin] 
"At least they will approach me and ask what 'Taiwan salt and pepper chicken' is. Sometimes I even want to hang up my Taibaozheng (mainland travel permit for Taiwan residents) to prove I really come from Taiwan and provide the original Taiwan taste," Xu said in his striking orange apron.
His shop is next to a bubble tea shop, and Xu enthusiastically greets his neighbor's frequent visitors, trying to arouse their interest for his chicken.
When a girl came along and ordered a chicken steak, Xu quickly took out the steak, sprinkled on some powder, put it into the oil cauldron, took it out and added powder again.
"It's very yummy! I heard about this shop from my friends, and now I'm a fan," said the girl.
The 40-year-old Taiwan man started his chicken shop three months ago on the bustling 817 Street in the downtown business area, aiming to bring the authentic Taiwan taste to Fuzhou, capital of southeastern Fujian province facing Taiwan across the Straits. It is also the first Taiwan-style fried chicken shop in Fuzhou.
"In Taiwan, fried chicken, including chicken steak and salt and pepper chicken stalls, are seen everywhere," he said.
So when he traveled to Fuzhou for the first time in 2005 and could not find this kind of snack, he realized there might be a business opportunity.
The final decision was made after he met Ai Ying, now his wife, a Fujian native.
"You know Taiwan's economy is currently in a recession, and I also want to stay with my wife, so I sold my apartment and car, came to the mainland and opened this shop," said the former senior advertising agent of Taiwan's United Daily News.
The newspaper closed its Taipei county branch, where Xu worked, in 2008 due to budget pressure.
The fried chicken business, however, has not been as easy to operate as he thought.
"The biggest difficulty is how to maintain the original Taiwan taste on the mainland," Xu said.
As the cooking, flavoring and materials are so different in Taiwan and the mainland, he has to mail-order products to obtain the distinctive taste.
"Take plum powder for example. It adds a delicate sweet-sour taste to the food, but I couldn't find it on the mainland and have to mail-order it from Taiwan," he said.
A portion of salt and pepper chicken sells for 5 yuan (70 cents) at his shop.
On the other hand, it takes time to promote a new snack among the public. That is also the reason he rented the compartment from the bubble tea shop.
"At first I often invited the bubble tea consumers to taste my chicken for free, but some people would still decline as they have never seen this before," Xu said.
On the most miserable days, the daily turnover was less than 50 yuan. Luckily, his persistence in using Taiwan-made flavoring and fresh chicken paid off, as the turnover doubled in the third month and began to bring in a profit for him.
Boasting original taste, his chicken has also become an attraction for Taiwan people living and working in Fuzhou, as a way to soothe homesickness.
Xu said proudly that a Taiwan man once drove two hours to his shop and bought several pieces of fried chicken steaks.
Xu has an ambitious plan to expand his Taiwan-flavor fried chicken shops in the mainland market. He disclosed that the first franchise outlet of his shop might open in northern China, where people prefer eating fried food.
Xu said he is confident that Taiwan snacks will gradually enter the mainland market, just as decades ago there were no teashops for bubble tea, but it has become the most popular leisure drink on the mainland.
"Anyway, people across the Taiwan Straits have the same stomachs and I think there's great potential in the mainland market," he said.