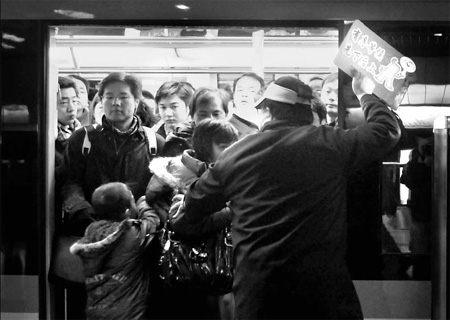 A volunteer surnamed Zhang, who is a local high school teacher, pushes passengers into a subway carriage in a Shanghai station Wednesday morning. [Gao Erqiang]
SHANGHAI: Ever since the 37.5-km Shanghai subway line was opened two years ago, the only real problem commuters complain about is overcrowding.
So much so that subway stations have now started hiring people to shove passengers into coaches.
Related readings:


 2 killed at Shanghai metro sitesShanghai subway resumes operation after collision


 Firefighting exercise in Shanghai subway


 Power failure strands Shanghai subway riders


 Surviving subway at rush hour
Despite that, almost all trains running on Line 8 between 7 am to 9 am, the rush hour, are getting delayed, as doors to the trains do not close because of the overflowing crowd.
Shanghai Metro Operation Center said that every carriage on Line 8 is 32 percent overloaded at all times and 70 percent overloaded during peak hours.
Even though five extra carriages have been added to the line, it has not eased the problem, with a number of passengers having to see at least three trains go by before they get a chance to step aboard.
"You have to be really rude and brutal to cram yourself into the carriage," said Liao Yumei, a 35-year-old woman, who takes metro line 8 from Zhongxing Road to People's Square every day.
"A train will not leave a station until all the doors are closed," said a spokeswoman from a subway operation company.
"If one train stays at the station, other trains have to wait until the first train goes. Usually, the train stops for only 30 seconds at each station, but now the time can be four minutes or even longer," she said.
Some passengers have simply given up and switched to traveling by bus.
"If I take a bus from Siping Road to People's Square, it will take around 35 minutes. If the subway isn't delayed, the trip takes only 24 minutes. But because of the delays at each stop, it now takes up to 50 minutes," said Zhang Jun, 45, a government employee.
And it's not an easy job to stuff passengers into already overcrowded trains. "It's like trying to close an overfilled suitcase. I sweat so much that my shirt gets soaked," said a volunteer on the Shanghai Metro Fan's Club online forum.
Transportation authorities have set up new bus routes parallel to the most populated sections of metro line 8 and line 6, but very few passengers choose that mode of transport.
"It is unrealistic to solve the problem of overcrowded carriages by increasing capacity. It's quite necessary to set up new bus routes," said a spokesman, surnamed Liu, for the Shanghai Metro Operation Center.
"It takes some time for passengers to get used to the new alternative, and we hope that passengers will take buses more often in the future to help release the pressure of metro line 8," Liu said.