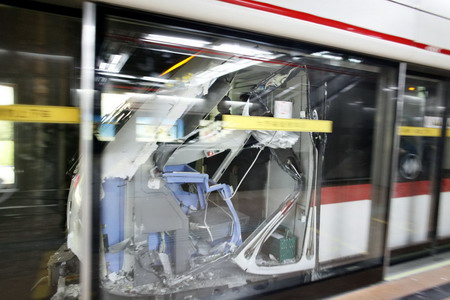 Technicians repair a damaged subway train after a power system breakdown and a subsequent collision of two trains in Shanghai December 22, 2009. A pivotal subway line in Shanghai was shut down early Tuesday for system failure and a subsequent collision of two trains, Xinhua News Agency reported. [Agencies]

SHANGHAI: A Shanghai subway line that was closed early Tuesday after a system failure and subsequent collision of two trains, has reopened, subway authorities said.
The two trains, coded 150 and 117, both moving slowly, collided at 7 a.m. after a short circuit caused a power system breakdown in Shanghai Subway Line 1, said a spokesman with Shanghai Shentong Metro Co Ltd (Shentong), which operates the line.
Train 117, which was empty, left the site at 10:17 am after repairs. But the removal of Train 150 was delayed until 11 am when the passengers trapped inside were rescued, the spokesman said.
He gave no details on how many people were in the train.
Train 150 was dragged out of the station at 11:48 am and Subway Line 1 resumed normal operation at around 12:15 pm.
No one was injured and Shentong was investigating the cause of the accident, he said.