SHENZHEN: The spotlight is on them, and it seems a bit intrusive now, says Xiao Hongxia, the 31-year-old manufacturing manager who, along with co-workers, was asked to represent the ubiquitous Chinese Worker - one of four runners-up in Time magazine's Person of the Year shortlist.
Xiao says she has started to turn down requests from the media for interviews after accepting dozens over the weekend.
"We are really just ordinary workers. We were extremely flattered after the media carried so many reports about us," Xiao said. But, "we want to focus on our jobs as usual and don't want to be disturbed by the media any more," she said.
It was Xiao's husband who told her that one of his friends was helping the US magazine arrange interviews with Chinese workers, and asked if she wanted to be in on it.
Xiao agreed and told her co-workers about it. Huang Dongyan was one of the seven (four female and three male workers in all) who arrived at a four-star hotel opposite their factory in Shiyan, Bao'an district, for the photoshoot.
In the photograph that eventually made it to Time, Huang is shown sitting - an arrangement she believes is simply because, at 36, she is the oldest in the group.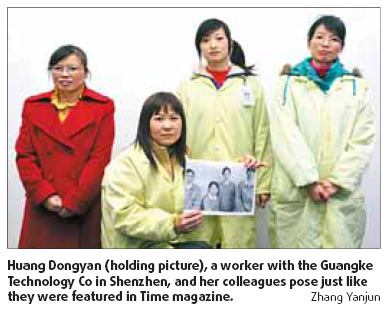 All of them were nervous while facing the camera, Huang recalled.
"The shoot started at about 9 am and ended at 2 pm. The photographer kept changing our poses, but we still look a little unnatural in it," Huang said.
The group did not ask why they were being photographed even after they signed an agreement giving the magazine full rights to publish it. They did not receive any monetary benefit, Huang said.
And, when the photograph finally appeared, the four workers who were in it were pleasantly surprised to see this well-known US weekly - which had featured famous Chinese including late Chairman Mao Zedong and national leader Deng Xiaoping on its pages - put them under the world's lens, Xiao said.
Xiao's boss at the Shenzhen Guangke Technology Co, a maker of light emitting diode lighting products, is understandably quite impressed.
"I plan to reward these seven employees, giving them 10 percent of the company's profits next year," Lin Xinyi, who was on a business trip to Taiwan, told reporters on Sunday.
Lin, a Hong Kong-based businessman, attributes his company's success to diligent workers such as Xiao, who left her hometown Shaoyang, in Hunan province, in 1994 and worked in 13 different factories before joining Guangke in 2004.
"I had invested in the aquatic industry before shifting to electronics and energy-saving lighting products. The company's success is mainly due to the efforts of the workers," Lin said.