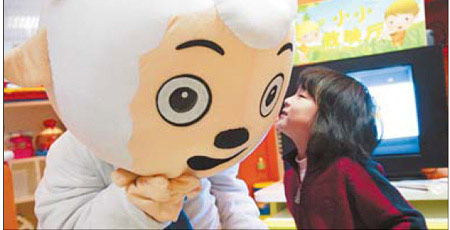 A girl kisses Pleasant Goat, a character from the animated series," Pleasant Goat and Big Big Wolf", at a theater in Beijing. The animation industry is thriving in China. [CFP]
Once considered part of the realm of youngsters, cartoons and graphic novels have suddenly hit China's mainstream culture as the country realized their potential for profit.
In a large hall of the National Art Museum of China, the country's top gallery for fine art, the poster of a cartoon goat, very popular on TV this year, was put on show last month.
Downstairs, there are oil paintings by China's realistic artists, including a portrait of a young girl in a Mao suit wearing a badge of Chairman Mao Zedong on her chest.
Gan Yujie, 60, who frequents the museum almost every week, said she never imagined the graphic novels such as "Romance Of The Three Kingdoms" could make it to the halls of the national art museum.
"I was excited to see the works there," said Liao Xiangzhong, dean of the Animation School of Communication University of China. "The exhibition in such a museum means that animation and comic arts have been recognized by the government as 'real' arts."
Organized by the Ministry of Culture (MOC), Ministry of Finance and Ministry of Science and Technology, the show covered a wide range of categories in the field of animation and cartoon, including animation films, animation TV series, iconic cartoons and comic books.
Chinese animation began in the 1920s. The first animated feature film "Tie Shan Gongzhu", or "Princess Iron Fan", screened in 1941.
Cai Wu, minister of culture, said Chinese animation and comic arts were attracting more attention than ever in the country with unprecedented opportunities ahead.
"After so many years of accumulation, Chinese animation has been fully fledged for a take-off," said Liao. He said the growth was due to governmental support and the dissemination of the works.
He said the Chinese government had been fully aware of the value of creative works of traditional culture and was trying to find a more effective way to communicate those values to its young people.
"We should look at the animation industry in a new way," said Ouyang Jian, vice minister of culture. "It's an industry which can bring happiness and dreams to people, especially for the adolescent."
Wang Jingtian, 19, an animation major with a vocational school in Beijing, said he had the feeling that his job prospects have become brighter.
He is also a cartoon fan and used to read Manga (Japanese-style comics) in primary school parks between classes in order not to get caught by teachers.
China currently has about 10,000 companies making cartoons and comics, with more than 200,000 people employed, according to the MOC.
Related readings:


 Boost for animation


 Animation talents taught in Hangzhou


 Europe element in Hangzhou animation industry


 No more sidelined, Chinese animation labeled "creative" money
However, according to the ministry, about 85 percent of those companies are not yet profitable.
The exception was "Pleasant Goat And Big Big Wolf", a 6-million-yuan production telling the story of several goats fighting their enemy, Big Big Wolf, who covets fresh meat for his family. The film pocketed 8 million yuan on its opening day on Jan 16 and some 80 million yuan within three weeks, becoming the new champion of the animated box office.
Despite the achievements, people are still not satisfied with the quality of Chinese animation works.
Zheng Lili, an animation enthusiast, said homemade cartoons films still could not match the Japanese ones in storytelling.
She said: "We don't have the animated cartoons that entertain everyone, whether it be child or adult."
But professor Liao was optimistic about the future of Chinese animation. "Outstanding work entails outstanding studios which are still developing here," he said. "It takes time."