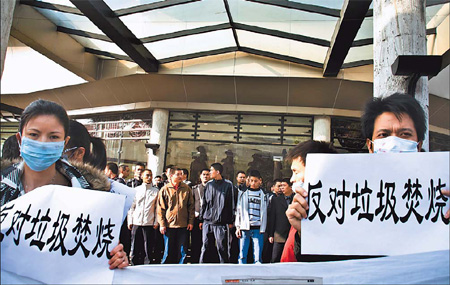 Residents stage a protest against a proposed incineration facility, which is likely to be built near their homes in Panyu district of Guangzhou, Guangdong province. The protest took place when district officials came to join residents in a discussion about waste recycling at the city's Lijiang Garden on Dec 20. [Sun Junbin/China Daily]

GUANGZHOU: The government of the Guangdong provincial capital is turning to netizens for advice on how to handle garbage, in a move being applauded by the residents.
In a notice issued yesterday, city government officials said they always pay great attention to public opinion about dealing with the growing garbage problem in the city.
The notice urged residents to actively put forward their ideas to relevant government departments via the Internet.
"The government is expecting to introduce an effective and environmentally friendly method to help cope with fast-increasing daily consumer waste via suggestions from a vast number of residents," according to the notice.
The city's waste is treated mainly through burning, burying and composting.
The southern metropolis now has to treat more than 12,000 tons of consumer waste a day.
Related readings:


 Spitting could leave poor with nowhere to live


 More children to be checked for lead poisoning


 591 waiting test results on mercury poisoning


 Waste plant causes cancer fears


 Four waste plants to shut down before Asian Games
The notice was issued after the city had to give up construction of a garbage incinerator in the city's Panyu district because of strong protests from local residents late last month.
The relevant governments were criticized to have ignored the public opinions before they made a decision to build the garbage incinerator in the city's densely populated district.
Many residents in Panyu district worried that their living environment would be polluted if the garbage incinerator was constructed.
Chen Binglu, a professor of environmental engineering from Guangzhou-based Sun Yat-sen University, said the notice reflects the government's desire to pay special heed to the public opinions.
"It is necessary for relevant government departments to carefully consider the public opinions and seek suggestions from the residents before a new policy is introduced or a big facility is constructed," Chen told China Daily yesterday.
"The notice has also helped raise residents' poor awareness of the need to correctly deal with consumer waste and protect our environment," Chen said.
Meanwhile the residents can express their dissatisfaction by putting forward their complaints to the government departments via the Internet, Chen added.
Many local residents have welcomed the city government's notice to seek residents' suggestions on handling the increasing amount of garbage.
Shen Deyi, a resident in Guangzhou's Tianhe district, urged relevant government departments to take efforts to promote refuse classification and recycling.
Neither burning nor burying is a good method to treat the trash, Shen told China Daily yesterday.
And Huang Shuangyu, a sales clerk of a supermarket, said the residents welcome the notice that indicated the government will respect public opinions.