Last hug for girlfriend turns into charge of defiant trespassing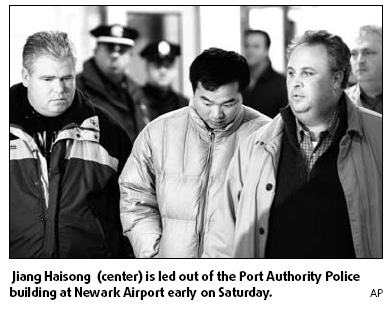 NEW YORK: The Chinese doctoral student who breached security at the Newark Liberty International Airport in the United States will appear in the Newark municipal court on the morning of Jan 28, amid continued controversy over the incident, a court official told China Daily on Tuesday.
Jiang Haisong, 28, was arrested last Friday evening by US port authorities and released after hours of questioning. Jiang ducked a security barrier in the airport's terminal C on Jan 3 to bid farewell to his girlfriend after a Transportation Security Administration (TSA) guard stepped away from his post momentarily.
The three terminals at the airport were subsequently shut down for six hours after a bystander who witnessed the incidence notified TSA officials. The shutdown reportedly caused numerous flights delays in and out of Newark, stranding thousands of passengers.
Related readings:


 Arrest made in Newark airport security breach


 NJ airport cameras faulty during security breach


 Man skirts security at US airport; flights stopped


 Newark airport terminal locked down over security

Jiang, a molecular biosciences student who is set to graduate in May, had contacted the Chinese consulate in New York on Monday by phone, said Wang Bangfu, the consul for overseas Chinese affairs at the consulate.
Wang told China Daily on Tuesday that the consulate is providing consular protection and assistance to Jiang after identifying him as a Chinese national.
These include providing a list of lawyers, which Jiang is selecting for his case.
Wang would not reveal more details because Jiang had requested for the content of their conversation to be kept private. But Wang said the consulate has been keeping a close eye on the development.
Wang did not comment further on the case until final investigation results were out, implying that the consulate will work to ensure Jiang gets a fair trial and his legal rights are fully protected.
Under the charge of defiant trespassing brought by the Port Authority of New York and New Jersey, Jiang faces a 30-day imprisonment and a fine of $500.
But New Jersey Senator Frank Lautenberg had earlier pushed for harsh punishment, threatening to lobby for severe federal criminal charges instead of a misdemeanor.
Lautenberg also earlier mentioned visa revocation and deportation, but has since toned down his comments on the case in the last few days.
The incidence has triggered strong reaction among people both in the US and China. A number of these have accused Jiang, on a student visa in the US since 2004, of a "stupid" blunder. Others have hailed him as a kind of hero for exposing a glaring airport security loophole.
On Monday, the Port Authority acknowledged that there had been earlier surveillance system failures in the airport's terminal C.
Senator Robert Menendez, a Democrat from New Jersey, has called for additional funding to replace the surveillance system. In a letter to US President Barack Obama, the senator said the breach exposed a "gaping hole" in security technology at the airport, the local Star-Ledger reported.
A number of lawmakers, led by Democratic congresswoman Sheila Jackson Lee of Texas and Republican congressman Charles Dent of Pennsylvania, have started to push for new legislation to improve passenger screening systems at the nation's airports after the Newark security breach.
While more people on the Chinese mainland expressed their disappointment at Jiang for bringing disgrace to the Chinese community, his American neighbors and fellow colleagues at Rutgers University showed more understanding and described him in much nicer words.
Ruben Hernandez, the TSA guard who stepped away from his post, has been suspended from his job. His fellow colleagues have also described him as a "model employee", the Associated Press reported.
Airport security has again been high on the agenda in the US since late December, after 23-year-old Nigerian Umar Farouk Abdulmutallab tried to blow up a Detroit-bound Northwest Airline flight on Christmas Day with a self-made chemical bomb.