GUANGZHOU: The local government has pledged to check more children living near an industrial park in Qingyuan, Guangdong province, after 25 children were confirmed to have lead poisoning.
Fifty-four children have been rechecked, with five within the healthy range, 24 having high blood-lead levels, 21 mildly poisoned by lead and four seriously poisoned, vice-mayor Wang Dekun said late on Monday.
One of the children, the most seriously poisoned, showed a blood-lead level more than six times the permissible limit.
The case broke out last Friday, with media reporting at least 44 children living in the Guangjin apartment buildings in the Yinyuan Industrial Park of the Qingyuan Economic Development Zone had been diagnosed with excessive lead levels in their blood.
A few adults have also been diagnosed with abnormally high lead levels. The actual number of lead poisoning victims has yet to be determined.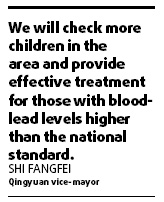 Preliminary investigations by the government have pointed to production at the nearby Zeliang Storage Battery Co, as the likely cause of lead poisoning. It has been ordered to shut down.
The PH scale and lead in the sewage, as well as the lead dust in the waste gas discharged by the factory, were tested last Friday and both were higher than provincial standards, according to a statement issued by the city government yesterday. The city's center for disease control and prevention tested five samples of drinking water from the affected community and found the lead levels in the healthy range.
"We will check more children in the area and provide effective treatment for those with blood-lead levels higher than the national standard," said Shi Fangfei, another vice-mayor.
The government will continue to investigate the source of pollution, he said.
Only children with lead six times the permissible level or higher need medical treatment, while for lighter cases food therapy is suggested, said Yang Aichu, a professor with the Guangdong Prevention and Treatment Center for Occupational Diseases.
Yang said lead enters a body through food, inhalation or contact with skin. A person covered with lead at work, if not properly washed, could bring the substance home and affect his family.
Excessive lead harms the human digestive system, disturbs the blood system and damages the nerve system in serious cases.
Construction of the Guangjin apartment building started in 2004 and residents, mostly migrant workers, said they have suffered smells from factories less than 100 m away.