BEIJING -- China has prepared plans to cope with even bigger difficulties amid the financial crisis and is ready to put forward new stimulus package at any time, said Premier Wen Jiabao here Friday.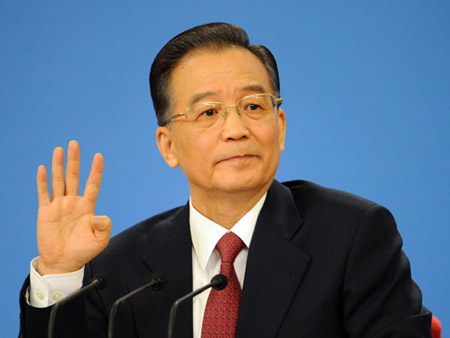 Chinese Premier Wen Jiabao answers questions during a press conference after the closing meeting of the Second Session of the 11th National People's Congress (NPC) in Beijing, capital of China, March 13, 2009. [Xinhua] 
Wen, while meeting press after the annual parliament session, said China has made long-time preparations to tackle the impact of the international financial crisis.
The country has formulated plans to cope with even worse conditions and has reserved plenty of "ammunition", he said.
"We are ready to put forward new stimulus policies at any time," Wen said.
All investment plans in China's four-trillion yuan stimulus package have been fully debated, and would be open for public supervision, Wen said.
He said the stimulus package included many new projects, such as the housing projects for low-income urban residents.
"We will provide housing to 7.5 million low-income Chinese in three years, and provide better shelter for 2.4 million Chinese who still live in shacks," the premier said.
Meanwhile, he admitted that some projects in the stimulus package, such as roads and railways, were included in the country's 11th five-year plan.
The 1.18 trillion yuan from the central government is totally new investment in China's stimulus package, said Premier Wen.
He that the central government fund will be spent on promoting the people's well-being, environment protection, key facilities and technology upgrading.
Wen said Friday that China's stimulus package plan was not fully understood by the world.
"Rumors and misunderstanding set the world stock market on a roller coaster ride," Wen told reporters after the National People's Congress closed its annual session.
China has announced a 4 trillion-yuan (585 billion US dollars) two-year economic stimulus package to boost growth and domestic demand, 1.18 trillion yuan of which will be funded by the central government.