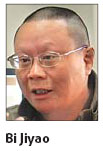 Premier Wen Jiabao is "very likely" to ask legislators to review his cabinet's proposal to significantly boost social security spending at the annual session of the National People's Congress this week, said a think tank researcher close to China's highest decision-making body.
"My understanding is the leadership has achieved a consensus that to greatly improve social welfare is a long-term strategy to help reduce the impact of the global financial crisis," said Bi Jiyao, senior researcher for the National Development and Reform Commission, a cabinet department for designing and implementing economic and social policies.
"This is a big strategy along with our bold stimulus plans to boost domestic investment," said Bi, who revealed the consensus during an exclusive interview after he was invited to give a lecture on the global economic environment to the Communist Party of China (CPC) Central Committee Political Bureau on Feb 23.
"We can expect more bold action soon and it is high time for us to take such steps," he said. "Sound social security can gradually help people feel assured not to save but spend, and that will finally help restructure China's economy, cut higher saving ratio and boost consumption."
Bi urged the government to restructure its fiscal spending mix and warned: "The ratio of social security spending to the total fiscal package is too low and we should take quick action to improve it."
Amid the deepening financial crisis and the urgency to boost domestic consumption, social welfare is today a hot debate among China's economists and think tanks. An expert panel led by China Development Research Foundation published a report last week saying China has the fiscal capacity to bring all its citizens under the social security umbrella by 2020.
Based on the price level in 2007, the panel said the government should invest about 5.74 trillion yuan ($839 billion) from its total fiscal revenues by 2020 to establish a complete social security network.
However, Bi insisted only "basic social welfare" should be offered to people, given the fiscal capacity and big population. "And I personally suggest a pension system and medical care should be high on the government's agenda, compared with other social welfare benefits such as education and housing," he added.
Bi said all citizens should enjoy basic social welfare, with the benchmark of such benefits gradually improved, and said: "Personal social welfare accounts should be transferred from region to region to help encourage labor flow nationwide."
At the moment, each province, municipality and autonomous region has its own social insurance requirements and are unwilling to transfer insurance fees when laborers plan to move to other provinces. "That barrier should be removed as soon as possible," said Bi.
(China Daily 03/02/2009 page3)