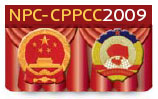 As in recent years, corruption is the No 1 issue among the Chinese public as the annual national legislative sessions prepare to kick off next week.
However, the huge attention generated this year is due not to the worsening corruption situation, but to the rising tide of online supervision launched by a politically aware public, experts said.
Related readings:


 Agenda of CPPCC annual session discussed by advisory body


 Stimulus methods dominate agenda


 HR: Employment crisis 'top of NPC agenda'


"Since the public still often discovers corruption around them, anti-corruption remains one of the most popular issues at the legislative sessions. And this year is no exception," Shen Kui, a political law professor at Peking University, told China Daily.
This was underlined by a China News Agency survey of nearly 50,000 readers in which over 75 percent named corruption as the most important issue.
That was immediately followed by income gaps, with votes from 69 percent of the readers.
In a similar survey on Sina.com, corruption also topped the list of concerns.
The rise of public awareness has spurred local officials to respond to the concerns.
Officials in Altay prefecture in the Xinjiang Uygur autonomous region became the first group of Chinese officials to declare their income to the public.
As part of the anti-corruption campaign, all 1,056 officials said they did not accept any valuable gifts from organizations or individuals related to their work, according to the declarations publicized online.
About 150,000 officials nationwide were punished by both disciplinary and legal institutions last year, government numbers show.
More than 20,000 officials handed over about 160 million yuan ($23.4 million) worth of bribes.
Last year's long list includes Liu Zhihua, the ex-Beijing vice mayor who was sentenced to death, Huang Songyou, the highest court official to be removed from his position, ex-State-run bank official Wang Yi and ex-assistant public security minister Zheng Shaodong.