SHANGHAI: Family members of the victims of a drunken driving fatality in Nanjing last June have sought the death penalty for the alleged perpetrator, with one calling yesterday's life term "too lenient" for an act that had endangered public safety.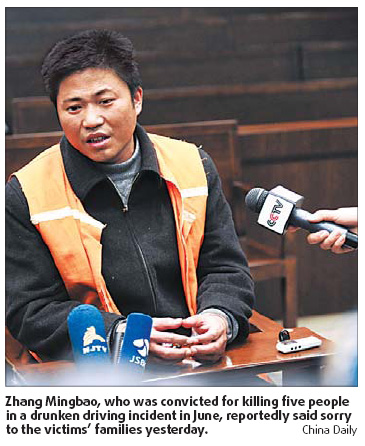 Earlier, the Nanjing Intermediate People's Court sentenced 44-year-old Zhang Mingbao to life in prison after he admitted to endangering public safety.
Related readings:


 Nation tightens crackdown on drunken driving


 Beijing gets tougher on drunk driving


 Shanghai confirms death penalty for most severe drunken driving cases


 China reverses death penalty in drunk driving case

Zhang kept weeping, and saying sorry to the victims' families after hearing the verdict, the Nanjing city media reported.
Zheng Cuihong, whose 27-year-old daughter was eight-months pregnant at the time of the accident, said: "I can never accept any apology from the driver. The sentence (of life imprisonment) is too lenient for him. He deserves the heaviest sentence. I would not have lost my daughter and grandchild if he had not committed this crime."
Zheng said she would urge the court to hand down a harsher sentence as the accident had killed her son-in-law as well.
Zhang allegedly killed five people on the evening of June 30 when he lost control of his Buick LaCrosse and plowed into nine pedestrians and six vehicles on a busy street in Nanjing's Jiangning district.
Three people died on the spot, while two others, including Zheng's pregnant daughter, passed away later at a city hospital. Four others were slightly injured, according to the Nanjing traffic police department.
Tests after the accident showed Zhang's blood-alcohol content was 381 mg per 100 ml of blood, nearly five times the legal limit of 80 mg per 100 ml of blood.
According to the court, the sentence took into consideration Zhang's attitude and behavior after the accident. Zhang, a real estate company boss, has sold his house and raised 1.1 million yuan to compensate the victims' families.
The local authorities of Jiangning district also paid 3 million yuan as compensation to the families of the victims.
Zhang's wife, Liu Fengxia, expressed regret over the verdict.
"I will further discuss with my lawyer on whether to appeal for a lighter sentence. Life sentence for causing a traffic accident is too severe," Liu said.
According to Chinese law, people charged with a traffic offense resulting in death face up to seven years in prison, while those charged with an offense against public safety through dangerous means, face a minimum penalty of 10 years in prison.
The death penalty is only applied in extremely serious incidents, where strong criminal intent has been proved and if the crime significantly hurts society.
China has carried out a nationwide campaign to crack down on drunken driving since August 15, after a series of fatal traffic accidents caused by drunken drivers.
Until mid-December, about 213,000 such cases were filed, including 32,000 severe ones.
Earlier this month, the Ministry of Public Security said drivers found with a blood-alcohol content of more than 20 mg per 100 ml of blood will have 12 demerit points stripped from their record, an increase from the current rule that subtracts six points.
Each driver's record begins with 12 points.
When all 12 points are struck from the record, a driver will have his or her license confiscated by the police, be forced to study traffic laws for a week and take an examination in order to regain the license.