BEIJING: An appeals court in China overturned the death penalty Tuesdsay in a drunk driving case, sentencing the defendant instead to life imprisonment.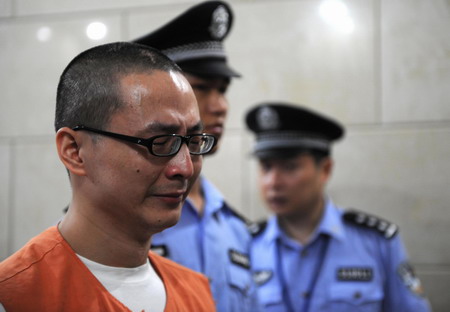 Sun Weiming,a driver convicted for casuing a fatal car accident that killed four people last December reacts after the court overturns his death penalty to life imprisonment. [Xinhua] 
Sun Weiming, 30, was sentenced to death after being convicted for a fatal accident last December that killed four people and injured another in southwestern Chengdu. It was reportedly the first time a death penalty had been given in a drunk driving case in China.
On Tuesday, the Sichuan Provincial Higher People's Court overturned the sentence on appeal, giving him life in prison instead, China Central Television reported on its noon newscast.
Sun, an unlicensed driver, was convicted of drunk driving after he drove his car into four other vehicles.
Related readings:


 Groom arrested for drunk driving after wedding bash


 Drunk driving inspector caught driving drunk


 China launches anti-drunk driving campaign before National Day


 Drunk driving claims 97 lives in Beijing in H1

Insurance firm will not pay for drunk driving death
His original sentence was made amid a two-month nationwide crackdown against drink-driving launched in August following a series of fatal accidents involving pedestrians and drunk drivers.
Enforcement of laws against drunken driving has traditionally been lax and police easily bribed or otherwise persuaded to expunge convictions.
However, a recent spate of highly publicized drunken driving incidents has sparked outrage in the media and on the Internet. The problem has tapped into disgust over China's yawning gap between the rich and poor after a young man driving his father's Porsche SUV killed a 16-year-old waitress earlier this month.
Drivers in Beijing can be cited as drunk if they have a blood alcohol level at or above 0.02, or 20 milligrams of alcohol per 100 milliliters of blood. That is much lower than the US limit of .08, making virtually any consumption of alcohol by drivers illegal.