GUANGZHOU: Typhoon Molave hit land in the southern province of Guangdong early Sunday, bringing rain and wild winds and forcing the evacuation of thousands of people.
Molave, the sixth and strongest typhoon this year, landed in Nan'ao town in Shenzhen at 12:50 am with winds up to 38 m at the center of the storm.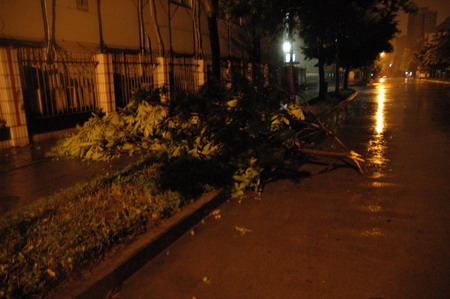 A broken branch lies on the street after a heavy rainstorm caused by typhoon Molave in Shenzhen of south China's Guangdong province, in the wee hours of Sunday, July 19, 2009. [Xinhua] 

Water flowed through the streets of Shenzhen, which bore the brunt of the typhoon's impact, with gale-force winds and heavy rain.
Residents said the impact was minimal because it happened when many were asleep.
Related readings:


 Typhoon Molave reduces to tropical storm, leaving Guangdong


 Typhoon Molave to bring heavy rains to southern China


 Typhoon Molave lands in south China


 Typhoon Molave to hit SE China by Sunday


 Molave becomes typhoon, approaching SE China
Heavy downpours are forecast in most parts of Guangdong and neighboring Guangxi Zhuang autonomous region today and tomorrow as Molave, now downgraded to a tropical storm, moves inland.
As of yesterday afternoon, the provincial flood control and drought relief headquarters said it had not received any reports of deaths or missing people. More than 18,000 people were evacuated.
However, three men were killed when a Shenzhen subway construction site was flooded. Their deaths are not considered related to the typhoon.
The Shenzhen flood control and drought relief headquarters recalled 1,302 fishing boats and 2,053 people working at sea before the typhoon landed.
"All my clothes hanging out on the balcony were blown away. The wind was so strong," said Zou Yuanzhi, an IT worker in Shenzhen.
Seven domestic flights from Shenzhen to Guiyang, Chengdu, Shanghai, Hangzhou, Chongqing and Beijing were canceled.
The flood control headquarters warned about possible flooding and landslides in the Pearl River Delta region.
In Guangzhou, the Guangdong provincial capital, more than 20 flights were postponed Saturday night at Baiyun International Airport. Flights resumed yesterday morning.
In neighboring Fujian province, more than 600 fishing boats were in the Xiangzhi national fish harbor, and soldiers were helping anchor the boats.
Molave, which killed at least four people in the Philippines, moved northwest to Guangxi Zhuang autonomous region yesterday afternoon, where it decreased to a tropical storm.