BEIJING: Typhoon Molave would make landfall at Guangdong Province in south China sometime from Saturday night to Sunday morning, said the National Meteorological Center (NMC) Saturday.
Molave became a typhoon early Saturday and was strengthening, the NMC forecast said.
Related readings:


 Molave becomes typhoon, approaching SE China


 China issues orange alert for typhoon Jangmi


 Tropical storm 'Molave' nears SE China


 Tropical storm Soudelor lands in south China


 Tropical storm Nangka makes landfall in Guangdong
Molave, the first typhoon to make landfall in China this year, could bring heavy rains to Guangdong, Fujian, Jiangxi and Hainan provinces before moving into Guizhou, Hunan and Jiangxi provinces, said Chen Lei, deputy head of the Office of State Flood Control and Drought Relief Headquarters and Minister of Water Resources.
The typhoon might make landfall at China at its peak, which could bring serious danger, Chen said.
At 8 a.m. Saturday, Molave was located at 21.2 degrees north and 119.0 degrees east, 375 kilometers from Huidong County in Guangdong Province, the NMC said.
Packing winds of 33 meters per second (119 kilometers an hour),the typhoon is moving northwestward at a speed of 20 to 25 kilometers per hour.
It is expected unleash gales and torrential rains in southeastern China, especially the coastal areas.
Observatories and flood control authorities warned the public to pay attention to weather forecasts and be aware of the risks of rainstorms or other disasters triggered by typhoon.
The State Flood Control and Drought Relief Headquarters dispatched five emergency task forces Saturday to Sichuan, Heilongjiang, Gansu, Guangdong and Fujian provinces to help prepare for the typhoon and possible flooding.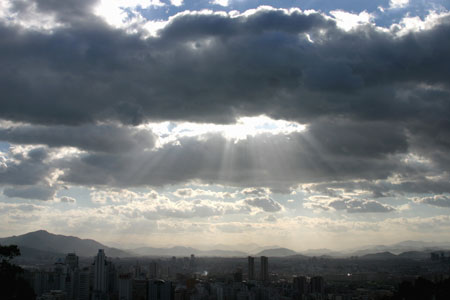 Dark clouds are seen over the skyline of Quanzhou city, in southeast China's Fujian Province, July 17, 2009. [Xinhua]