GUANGZHOU:Typhoon Molave was downgraded to a tropical storm as it left south China's Guangdong Province to neighboring Guangxi Sunday, said the Guangdong Provincial Meteorological Bureau.
Winds weakened to 65 km per hour at noon, down from 145 km per hour at its center when it landed at Nan'ao Town in Shenzhen City at 12:50 a.m..
The typhoon brought heavy rains to the province with the largest precipitation of 255 millimeters in three hours was recorded in Dianbai County, the bureau said.
No casualties have been reported.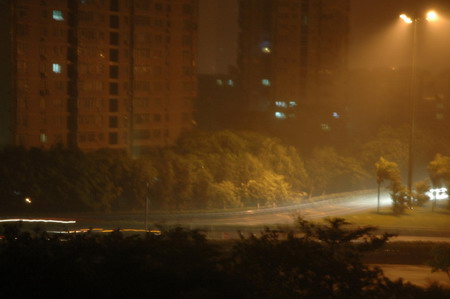 Trees sway in the rainstorms caused by typhoon Molave along the Binhe Avenue in downtown Shenzhen, south China's Guangdong Province in the wee hours of Sunday, July 19, 2009. [Xinhua] 
As the typhoon weakened, 17 flights delayed on Friday night at Shenzhen airport took off Saturday, but airport authorities are still advising passengers to check weather forecast and flight schedules.
The China Meteorological Administration warned that Molave would bring heavy rains affecting Guangdong and Yunnan provinces and Guangxi Zhuang Autonomous Region Sunday.