BEIJING: Typhoon Molave would bring heavy rains to the country's southern and southwestern regions following its landing at a southern Chinese town in the early morning, said China Meteorological Administration (CMA) on Sunday.
Related readings:


Molave lands in south China


8 killed in torrential rain in Sichuan

Typhoon approaching SE China

Molave becomes typhoon, approaching SE China


CWB issues typhoon forecast
The administration warned in a note on its website that that Molave would bring downpour to Guangdong Province, Guangxi Zhuang Autonomous Region and Yunnan Province. Guangdong, in particular, embraced heavy rains on Saturday night.
Molave landed at Nanao town in Shenzhen City of Guangdong at 0:50 am  (Beijing Time) Sunday, packing winds up to 145 km per hour in its eye.
CMA issued an "orange alert" at 6:00 am on Sunday that the typhoon has weakened to strong tropical storm after landing in Shenzhen. It  located at 22.7 degrees north and 113.7 degrees east at 5:00 am.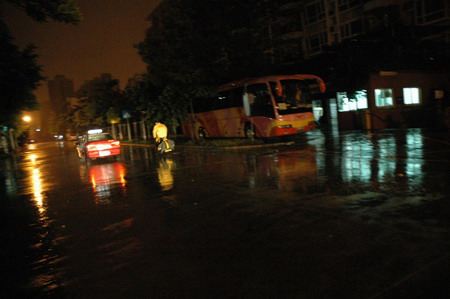 Streets were flooded in the downtown area of Shenzhen after a heavy rainstorm caused by typhoon Molave in south China's Guangdong province in the wee hoursof July 19, 2009.[Xinhua]
The typhoon was expected to move northwestward at a speed of 25 km per hour, and it would further weakened, said the CMA.
Influenced by Molave, force 6 to 8 gales were forecasted to sweep through the northern part of the South China Sea, coastal areas of western Guangdong, and the Pearl River Delta region from daytime to the night Sunday.
Six-to-eight meter high waves were expected in the northern part of the South China Sea from Saturday night to Sunday morning, and the relevant  departments should make full preparations to cope with emergencies, said the State Oceanic Administration.
The State Flood Control and Drought Relief Headquarters dispatched five emergency task forces Saturday to Sichuan, Heilongjiang, Guangdong and Fujian provinces to help prepare for the typhoon and possible ensuing flooding.