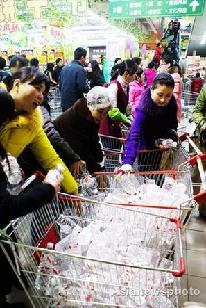 Customers rush to stock up on bottled water in a supermarket in Yancheng, Jiangsu province, Friday, Feb 20, 2009.[Asianewsphoto]  
But in Yandu District alone, a key water source preservation area, there are still more than 30 firms, all of which were forced to halt production in the wake of the recent cut, said Wang Yingchun, director of the district's publicity department.
Four days after being shut down, Biaoxin Chemical Company's factory in Longgang Township, a southwestern suburb of Yancheng, is empty, its brick-red workshops sealed as police patrolled outside. Beside it, the waterway that flows into Mangshe River, the city's major source for drinking water, is dark and smells strongly of chemicals.
But there is also a sense of joy in the air, with locals who have lived near the plant since it opened eight years ago hailing its closure as "a gift from heaven".
"Everyone here knows how much pollution it has brought," said Zhou Jinming, 60, from the nearby Xingou village. "The river used to be clean, teeming with fish and river snails. Now, nothing can be found there."
Crops in the village had also fallen victim to the deteriorating water quality, which had caused the soil to be poisoned and a reduced output, he said, explaining: "I used to earn 10,000 yuan a year from two mu (0.13 hectares) of farmland. That has decreased by 30 percent."
Zhou also recalled with bitterness how the wheat he planted two years ago died after it was irrigated with water from the river.
Related readings:


Water, air pollution still serious


City still in shock over water danger


Million left without tap water


Algae causes water crisis in Wuxi
"Can you imagine that? We dare not eat the crops we plant ourselves. We would rather sell them and buy what we need from outside town. There is really no choice," said Zhou.
Petitions calling for action by the government also went unanswered, said fellow villager Zhou Weixiang, who added: "The factory is said to have contributed a lot to the local tax revenue. We could do nothing about it."
But Yandu District spokesman Wang said the authorities were trying their best to upgrade the city's industrial structure while maintaining steady economic growth. Tax contributions from chemical firms, for example, had dropped below 1 percent of the total revenue - it was 10 percent three years ago - while the district had closed more than 150 plants in two years, he said.
"Following the water crisis we have stepped up efforts to close all remaining enterprises. We know it is a chance for us to accelerate industrial restructuring," he added.
But for people like Zhou Weixiang, the price villagers have been forced to pay has been too high for too long. "Many people complain of a soar throat after inhaling smoke from the factory. This is truly a matter of life and death."
Water pollution incidents in cities across China in the past few years have raised questions over what measures should be taken to prevent a disaster in the future.
Following a blue-green algae outbreak in Taihu Lake in May 2007 that disrupted supplies to more than a million people in Wuxi, Jiangsu province, drinking water was also cut off to 200,000 people in nearby Shuyang County for more than 40 hours after chemicals polluted a local river two months later.
And in 2005, about 100 tons of pollutants containing benzene and nitrobenzene spilled into the Songhua River in Heilongjiang province. The toxic slick forced Harbin, a city with a population of more than 4 million, to suspend its supply for nearly four days.
For Jiang Wei, director of the Taihu Lake division under Jiangsu's provincial environmental protection bureau, the prevention and treatment of water pollution in China is more of a management problem than a technical one. If no one is held responsible or if the punishment is not severe enough, violation of the law and damage to the environment will occur time and again, he warned.
"So the key lies in the development of a mechanism in which different parties would share both the costs and benefits of protection initiatives," he said, adding that the environment compensation scheme in force in Jiangsu is a good example of how a market mechanism could serve to deter polluters.
The initiative, introduced last year, stipulates that cities on the upper reaches of Taihu must compensate neighbors in the lower reaches if their pollutant discharge exceeds the maximum limit. "By making clear who is responsible for the excessive discharge and imposing payments, it encourages the reduction of pollution and makes all sides work together," explained Jiang.
Zheng Zheng, a professor at Nanjing University's environmental protection department, also added that during the current wave of industrial transfer from affluent to less developed cities, governments at all levels should pay close attention to controlling companies' environmental standards.
Zhang Lijun, deputy minister of environmental protection, told a national meeting on pollution control yesterday in Shanghai that water, air pollution in China is still serious and environmental protection departments across the country should press enterprises harder on pollution control.
"The fundamental way to overcome this is to continue to press enterprises to reduce pollution emission through technology and management," he said.