After running their taps for eight hours in the hope of ridding their home of any toxic water, Wu Chenggui and his wife filled a kettle, boiled the water and drank it. Like many in Yancheng, they had grown tired of walking 500 m to fill two buckets at a well four times a day.
Related readings:


Water, air pollution still serious


City still in shock over water danger


Million left without tap water


Algae causes water crisis in Wuxi
They were among the majority in the city in Jiangsu province who finally started to drink the tap water again Tuesday night - almost three days after it was declared "safe" by the local government following a toxic chemical spill caused by a nearby factory.
"I went to the well to see how many people are still using the underground water," said Wu, "but I only found one or two. I think most people are doing the same as me."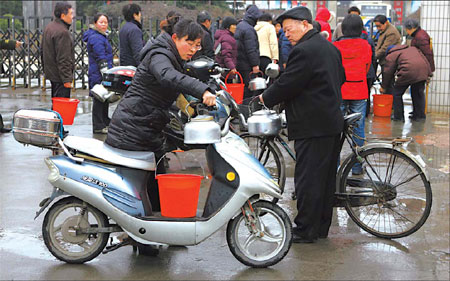 Yancheng residents arrive at the Jiangsu Jianghui Engine Co Ltd factory to get clean water from its deep well during the city's water pollution crisis, February 22, 2009. [China Daily]
But there were some who remained cautious. A restaurant owner surnamed Zhou said she was still using only bottled water for cooking because she needed to ensure "safe and clean water" for customers.
The last five days have been terrifying for local residents, with supplies to around 200,000 people cut for more than 25 hours after their water source was poisoned with potentially-lethal carbolic acid on Friday. The substance has a vapor that can cause corrosion to the skin, eyes and respiratory tract, and, if inhaled, can lead to damage to the central nervous system, heart and kidneys.
"People were all stocking up on bottled water last Friday. It was amazing," said Wu. "Supermarkets soon ran out. My wife and I managed to get 50 bottles but the price had been driven up to 5 yuan (73 US cents) from 0.9 yuan a bottle. There wasn't even water to flush the toilet."
But as life returns to normal for those in the city, one question still remains: Who should be held responsible for the deadly pollution?
"It's true that chemical companies have violated the law by discharging pollutants into the river. But I really can't understand why the government allows them to be there for such a long time," Wu said, adding there were a number of plants dotted along the city's waterways like "time bombs" waiting to go off.
Ding Yuesheng, production manager for Biaoxin Chemical Company, admitted this week it was his staff who emptied 30 tons of waste water containing the hazardous chemical into a drain that later filtered into the river. But Wu said the incident has followed years of calls from locals for intervention to halt the pollution.
According to Xu Shoukai, director of the inspection team for Yancheng's municipal environmental protection bureau, the government had checked the plant several times but had "failed" to find sufficient evidence of excessive discharge of pollutants. The company must have done that by stealth, he said.
But his explanation will do little to appease those residents who claim the recent turmoil brought back bad memories of two previous scares, when ships carrying pesticides capsized on nearby Mangshe River, in the last two years.
"We are prone to water pollution risks as the intake of the city's water source is on the lower reaches of the waterway, subject to the flow of industrial pollutants on the upper reach," said a resident surnamed Huo. "The government really should step up efforts to either relocate or shut down these firms."
According to a circular issued by Yancheng's municipal government, the city should have done away with all chemical companies and blocked all sewage drain outlets on the upper part of the waterway by the end of 2008.