SHANGHAI -- Lakes, rivers and the air in many places in China are still polluted, some seriously, in spite of continuous efforts to control pollution, a Chinese environmental official said Tuesday.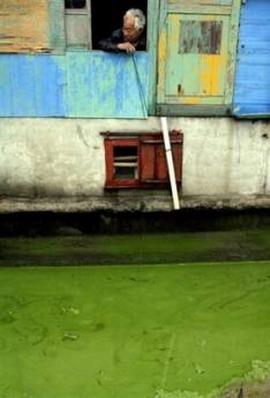 An elderly fisherman looks out from his boat on Taihu lake, China's third-largest lake, where a pollution-linked algae bloom has reappeared in Huzhou, in eastern China's Zhejiang province. [Agencies]
Zhang Lijun, deputy minister of environmental protection, said environmental protection departments across the country should press enterprises harder on pollution control.
"The general situation of environmental pollution does not allow us to be optimistic," Zhang told a national meeting on pollution control in Shanghai.
"The fundamental way to overcome this is to continue to press enterprises to reduce pollution emission through technology and management," he said.
For monitoring particulate matter and sulfur dioxide as major air pollutants, the China Environmental Monitoring Center classifies air quality in urban areas into five levels, ranging from level I or excellent, level III or slightly polluted, to level V or hazardous.
A national report on China's environment, issued by the ministry on November last year, said among some 320 cities of prefecture level and above, air quality of 39.5 percent of the cities averaged at level III or lower.
China also classifies water quality in major rivers and lakes into six levels, ranging from level I, which is good enough to be used as the source of drinking water, to level VI which is too polluted to be used even for farm irrigation.
The quality of the water sampled in almost one fourth of the monitoring stations set up along major rivers such as the Yangtze River and the Yellow River averaged at level VI, according to the document.
Pollution in 28 major lakes, such as the Taihu Lake and the Dianchi Lake, remained serious, with the quality of almost 40 percent of the water was at level VI.
Waters in urban regions were also facing serious pollution, with 90 percent of river water and half of underground water polluted.
Zhang Lijun said China invested 51 billion yuan (US$7.46 billion) by September last year into 2,712 water treatment projects, 881 of which are now operational.
These projects, scattered along five rivers, two lakes, and in reservoir areas of the Three Gorges Dam on the Yangtze River, aim to reduce the emission of chemical oxygen demand (COD), a measure for water pollution, into the water.