WUXI, Jiangsu -- A fast-spreading blue-green algae has polluted a lake that provides drinking water for millions of people in the eastern Chinese city of Wuxi, Jiangsu Province.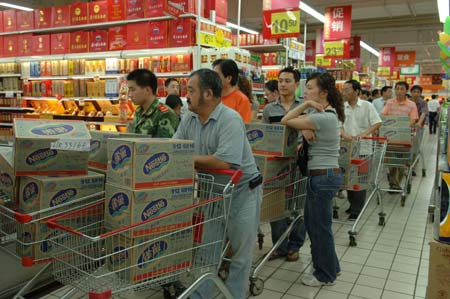 Customers queue to buy bottled water at a supermarket in Wuxi, East China's Jiangsu Province, May 30, 2007. Local residents in Wuxi rushed to buy bottled water when the tap water developed a strange smell. The blue-green algae outbreak in Taihu Lake affected the underground water in Wuxi and caused the water crisis, Xinhua said. [newsphoto]


Wuxi, an economically dynamic city 128 km from Shanghai with a population of more than 5 million, saw panic buying of bottled water and bread on Wednesday, a day after Taihu Lake started to stink with a blue-green algae bloom.

Citizens complained that tap water was so tainted and smelly that they could not wash with it.

The price of an 18-liter bottle of water sold by street peddlers had risen from eight yuan to 50 yuan by Wednesday night.

A downtown Walmart outlet strictly rationed sales of 500 milliliter bottles of water to 24 bottles per person.

Blue-green algae is a form of aquatic plant life that occurs naturally in rivers, lakes, damp soil, tree trunks, hot springs and snow. "Bloom" is the common term used to describe an increase in the number of algal cells to a point where they discolor the water, form scum, produce unpleasant tastes and odors, affect shellfish and fish populations or otherwise create a nuisance and seriously reduce water quality.

Taihu Lake is a scenic attraction famous for its aquatic life, including whitebait, shrimps, lily and water chestnuts. But today the lake is a smelly shadow of its former self.

Initial investigations show the water level of Taihu Lake is at its lowest in 50 years this summer due to continuous high temperatures and lack of rainfall, which have led to an excess of nutrients in the water.

The city government is planning to artificially induce rain on Thursday or Friday to dilute the lake water, and the provincial government has agreed to divert more water from the Yangtze River to the lake.

"Yangtze water is flowing into Taihu lake at 127 cubic meters per second," said Xia Jina, vice chief of the municipal water resources bureau. "We opened all the sluices along the lake on May 11 and had received 180 million cubic meters of Yangtze water by Tuesday."

Mayor Mao Xiaoping cut short a trip to Europe and boarded a flight home from Britain on Wednesday night.

Local authorities are closely monitoring supplies of bottled water in 10 supermarkets and have allocated more bottled water from neighboring cities as well as Shanghai and Zhejiang Province.

The city's pricing bureau issued a circular late on Wednesday to ban water price hikes. Vendors who deliberately drive up water prices may face fines up to 300,000 yuan (US$39,200), it said.

Wuxi administers six districts in the city proper and two other small cities in the outer areas.

The affected population is mostly in the city districts, but the local government is still counting the exact number of people affected by the blue-green algae bloom.

The local environment agency is closely monitoring water quality around the clock and Yang Weize, secretary of the Wuxi Municipal Committee of the Communist Party of China, vowed on Wednesday to guarantee safe drinking water "at all costs."