One mother said in the Beijing Youth Daily that the quake pushed her son and "his whole generation to the frontline for others".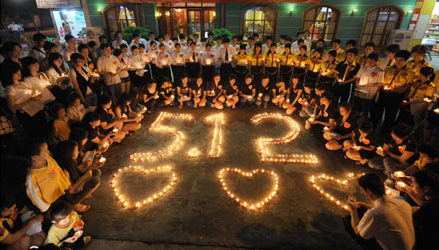 Young students mourn around candles during a memorial ceremony in Nanning, capital of South China's Guangxi Zhuang Autonomous Region, May 19, 2008. [Xinhua]
Yi Wenchen, another graduate student who was polled in the recent survey, had planned for a trip after finishing her course this summer.
She canceled the plan and donated the money she set aside for the trip to quake victims instead.
"I didn't even know what I was living for," Yi said of her life before the quake.
"At least now I feel that I am not living for myself, but also for relatives, friends and our compatriots."
Before the quake, Yi said she was worried about what company to work for, how much she could earn, her career development and many other material aspects.
"But now, I will try to follow my heart and do what I really want to do," she said.
Long Yi, an employee of a network company in Xi'an, Shaanxi province, still remembered the atmosphere in her company during the three days of national mourning for quake victims, from May 19 to 21.
"Some of my colleagues, who care very much about how they look and changed dresses almost every day, put on black and white attire for the three days," she said.
"At our internal online forum, some colleagues posted reminders on not talking loudly or laughing on buses during that period."
On May 19, Long said her colleagues unanimously accepted a suggestion on the forum, to "eat vegetarian, wear plain clothes, refrain from putting on cosmetics, and not having leisure activities for three days".
"I even changed my QQ (online chat program) icon into a gray heart," Long said.
"I won't squander money, water or electricity," said Wen Ying, who works in a TV shopping company in Hunan province.
"Resources must be scarce after the quake and I will save whatever I can."
Similarly, a person using the pseudonym "little strong fist" said he has started buying cheaper cigarettes. He said he would able to save 200 yuan ($29) every month by doing so.
"I will keep sending the money saved to quake-stricken areas to help with reconstruction," he said.
"Years later, when Wenchuan is reconstructed, I will take chrysanthemums to mourn those lives lost in the disaster."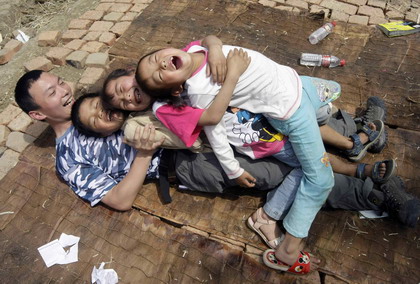 Volunteer Wang Xiaonan (L) plays with earthquake survivors at a refugee settlement place in Yong'an town of earthquake-hit An'xian county, Sichuan province June 2, 2008. [Agencies]
sides donating money, a number of respondents also wanted to know how they could volunteer to help those in quake-hit areas.
But not all of those polled chose to live a more frugal life following the quake or expressed the desire to help quake victims.
A 28-year-old woman, surnamed Hu, said she used to save whatever she could but that was all going to change.
"Life is too fragile," she said.
"From this second on, I will never save money and never give up what I like for the sake of saving.
"I will eat and drink well and never go on a diet."
Close to 29 percent of those polled in the recent survey shared Hu's new view of life: Life is short and hard, so it should be enjoyed more.
Still, all the respondents agreed on one thing after the quake - the need to cherish things.
Messages on websites and between relatives and friends included "live well, cherish yourself, relatives and friends", "let's stop complaining, live and cherish every day", and "we cried our eyes out in the quake, but after that we should learn to cherish and to love".
The survey also showed that 77.9 percent of respondents said they would spend more time with relatives and friends, while 14.6 percent agreed they were workaholics before but would now spend more time with relatives and friends.
Long Yi from Xi'an said the disaster showed how precious relations were between people after news of the tremor reached the city on May 12.
"Many people moved out to the square as aftershocks were forecast," Long said.
"I decided to stay at home as my baby was too young to be brought out, and I thought it might not be that dangerous."
But her neighbors returned to the building and asked her to go with them when they discovered she was still at home.
"It is dangerous. Take the baby, take my blanket to wrap him, quickly," one of them had said.
Long felt for the first time how trustworthy her neighbors could be.
She is not the only one to have changed her view about others after the quake.
Wen Ying from Hunan province had been on bad terms with some of her colleagues. After the quake, her company held a special gathering to mourn those who died in the disaster.
At the event, one of Wen's colleagues who was dubbed "iron lady" by others, burst into tears. A male colleague known for being stingy also donated a month's salary.
"All of a sudden, I felt my colleagues were lovely people," Wen said.