WASHINGTON -- Barack Obama turned in earnest to the general election and the hunt for a running mate Wednesday, embraced by US Democratic leaders who signaled forcefully and sometimes impatiently to Hillary Rodham Clinton that her marathon duel with Obama was over. Clinton kept her silence in public, while supporters made a case for her as Obama's No. 2.
Obama himself moved to link himself more closely with a young Democratic hero of a half-century ago, picking US President Kennedy's daughter Caroline to help him choose a vice president.
While Clinton still wasn't conceding, even after Tuesday's primaries and a flood of "superdelegate" endorsements of Obama sealed the nomination, there were signs aplenty that she was closing shop. She began bidding campaign staff members farewell, and a number were told not to come to work after Friday. Last paychecks were expected to go out June 15.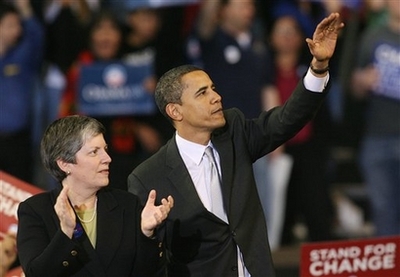 In this file photo from Wednesday, Jan. 30, 2008, US Democratic presidential hopeful Sen. Barack Obama, right, stands with Democratic Arizona Gov. Janet Napolitano as he holds a 'Stand for Change' rally at Veterans Memorial Coliseum in Phoenix. Democratic rising stars, Arizona Gov. Napolitano and Kansas Gov. Kathleen Sebelius, have been mentioned as two potential running mates who could help Barack Obama woo female voters. [Agencies]
The primary rivals ran into each other backstage at a hall where both spoke to Jewish leaders, but Obama said there was no mention of how or when she would formally end her long campaign to become the United States' first female president.
Obama showed no impatience, merely smiling and accepting congratulations from colleagues in both parties as he returned to the Capitol for a Senate vote. But other Democrats urged her to get out of the way.
"I don't see why we don't get on with it and endorse" Obama, said Rep. Charles Rangel, a congressman from Clinton's home state of New York. He said it was only a matter of time before he and other Clinton supporters formally back Obama.
Senate Majority Whip Dick Durbin, an Obama supporter, said Clinton's non-concession "creates a pretty delicate situation here, an awkward situation."
"I don't want to push her. Nobody is going to push her," Durbin said on MSNBC. "But the sooner she does, I think the more likely we're going to be organized and ready to win in November."
Obama began focusing on who will join his ticket in the fall. His campaign said the vetting of potential running mates was to be managed by a three-person team of Caroline Kennedy, former Deputy Attorney General Eric Holder and longtime Washington insider Jim Johnson.
Clinton has told lawmakers privately that she would be interested in the vice presidential nomination. Obama was noncommittal after his chat with her behind the scenes at the American Israel Public Affairs Committee.
"We're going to be having a conversation in coming weeks, and I'm very confident how unified the Democratic Party's going to be to win in November," he told reporters after a vote in the Senate where he received congratulations from all sides.
Meanwhile, the dam holding back endorsements broke from coast to coast on the day after the primary elections concluded.
Seven senators who had stayed out of the matter said they were giving Obama their commitment and would work toward uniting Democrats for the election, now exactly five months away.